The Official Home of Your Student Experience
The college experience can feel challenging to navigate alone. At Coppin, you're not alone—you're part of an Eagle community here to support you every step of the way. Whether you're a student in your first semester or year, or someone who's a few years in, get started here to find academic support, financial aid information, student account information, as well as general campus information.
We're here to make sure you have the tools you need to feel safe and be successful.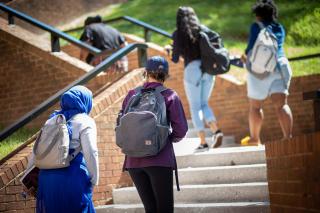 Report a Concern or Complaint
Your safety and well-being are our #1 priorities. Some examples of issues you can report with this form include inappropriate or dangerous behavior of a staff and/or faculty member, a negative customer service experience or any other experience that has negatively impacted your Coppin college journey.
Get to Know Academic Policies
Before you start classes, you should become familiar with our academic policies. These policies around issues including declaring a major, understanding the Coppin grading system, and filing an academic grievance can be valuable tools to help you define success throughout your Coppin journey.