Office of Admissions
Undergraduate Admissions
Our priority application deadline is March 1st for the Fall semester and December 1st for the Spring semester. Apply online today! If you are a returning student interested in re-enrolling, please complete the Undergraduate Readmission Application in the Office of Records and Registration.
Mon-Thu: 8:00 am - 5:00 pm
Fri: 8:00 am - 3:00 pm
Miles Connor Bldg. 1st Floor
What you need to apply for admission
Application for admission
Get started by completing the online admissions application.
If you were enrolled at Coppin State University and are now applying for re-admission to an undergraduate program, please work with the Office of Records and Registration and apply with the Undergraduate Re-Admit Application.
Official high school transcript
Official transcripts can be sent electronically or in paper form. For your transcript to be considered official, it must be sent directly from your high school or delivered (in person or by mail) in a sealed envelope. Your official transcript can also be emailed directly from your high school registrar/school counselor office to Admissions@coppin.edu.
Also make sure to send us your official scores if you've earned credit through Advanced Placement (AP), International Baccalaureate (IB), or College Level Examination Program (CLEP) tests.
If you have taken any college coursework or earned any college credits, please submit all official transcript(s) from all other institution(s) attended.
International Students
Transcripts from institutions outside of the U.S. and related territories must also include a department-by-department or course-by-course evaluation completed by a member of the National Association of Credential Evaluation Services (NACES). Visit our resources for international students to learn more about additional admission requirements.
More international student resources
Official ACT or SAT scores
Students applying for Spring 2023 or Fall 2023 are not required to submit American College Testing (ACT) or Scholastic Aptitude Test (SAT) scores, per our Test-Optional Policy. Also, if you are age 21 or older do not need to submit ACT or SAT scores.
If you are required or decide to submit ACT or SAT scores, Coppin State University's school codes are:
SAT: 5122 Coppin State University
ACT: 1688 Coppin State College
Approved alternative credit scores
You may be able to earn college credit for scores received through:
Advanced Placement (AP)
College Level Examination Program (CLEP)
International Baccalaureate (IB)
Prior learning credit
Visit our resources on Advanced Placement (AP) and prior learning credit to learn more.
Undergraduate programs with additional requirements
Some programs require students to apply to both Coppin and their major. These programs have additional admission requirements and/or separate application process:
Nursing
Health Information Management
Social Work
Education
Please direct any questions about these programs and requirements to the specific program or department.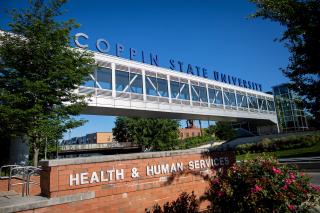 Join our Coppin family
A college experience where everyone belongs. Find your fit at Coppin!