How to Apply for Federal Financial Aid
Mon-Thu: 8:00 am - 5:00 pm
Fri: 8:00 am - 3:00 pm
Miles Connor Admin Bldg. 1st Floor
Get Started on Your Financial Aid Process
Applying for federal financial aid begins with completing the Free Application for Federal Student Aid (FAFSA). Coppin uses the FAFSA to determine which students get federal financial aid, and how much they receive. Remember, completing the FAFSA is the first step for any student to be considered for federal financial aid, including grants, loans, work study and some scholarships.
The FAFSA school code for Coppin State University is 002068.
What every student and family needs to know to complete your FAFSA:
Student and families often complete the Free Application for Federal Student Aid (FAFSA) online. 
Step 1. Get your Federal Student Aid (FSA) User ID
Your FSA User ID is a username and password that acts as your login information and legal signature for federal financial aid applications, and online forms, like the FAFSA. Parents must create an FSA User ID if completing a FAFSA for a dependent. Any student applying for federal financial aid in their own name must have an FSA User ID. Create or look up your FSA User ID online through the Office of Federal Student Aid.
The FAFSA school code for Coppin State University is 002068.
Step 2. Collect all documentation required to complete the FAFSA
Remember, the documentation you need for your FAFSA is based on your dependency status. If you are a dependent, you must submit the required income documentation for your parents or legal guardians. If you are married, you'll also need to submit your spouse's income information in addition to your own.
Prepare to have these documents ready when completing your FAFSA:
Social Security number (for you and your parents, depending on dependency status)
Driver's license number
Alien registration or permanent resident card (if not a U.S. citizen)
W2 forms (if you earned income, and did not file taxes)
Federal Tax Transcript or Tax Return for the year you're applying for aid. We encourage you to use the IRS Data Retrieval tool to automatically transfer your Federal Tax Return into your FAFSA.
Note: Some accepted tax forms include the IRS 1040, 1040A, 1040 EZ, or Tax Return for Puerto Rico, American Samoa, the U.S. Virgin Islands, Marshall Islands, Federated States of Micronesia, or Palau.
Step 3: Complete, sign, and submit your FAFSA
The FAFSA is free to complete and never requires you to pay. Enter your FSA User ID to electronically sign your FAFSA before you submit.
What happens after I complete the FAFSA?
After submitting your FAFSA, you receive your Student Aid Report (SAR). This report comes via the email you put on your FAFSA or through the mail. Your SAR shows your eligibility for Pell and Subsidized federal loans. It may also say you've been selected to confirm your FAFSA information through Verification.
Coppin receives your SAR electronically via an Institutional Student Information Report (ISIR) after it processes.
Your SAR report might indicate you've been selected to verify your FAFSA information. If this happens, Coppin's Office of Financial Aid (OFA) notifies you about next steps, which may include you (and/or your parents) submitting Federal Tax Transcripts, Verification Worksheets, or any other documentation needed to finish your financial aid process. Learn what your next steps are when selected for Verification.
Coppin's OFA determines your eligibility for financial aid and notifies you once your file is complete.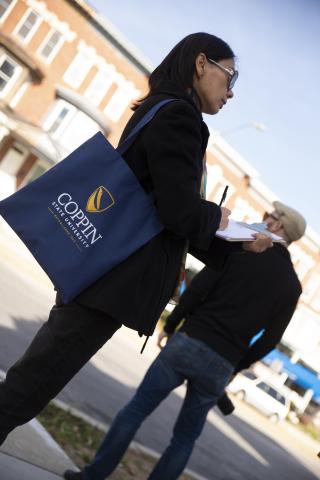 Important Tax Updates to the Federal Financial Aid Process
Students and families are now able to use Prior-Prior Year (PPY) tax information to complete the FAFSA. PPY is helpful because students and families can complete the FAFSA early, using accurate tax information from 2 years before. Before PPY, students and families had to estimate tax information on the FAFSA and then go back and update it once taxes were filed. This update means you can file your FAFSA faster, and possibly hear back about college financial aid packages sooner than before.