Career and Professional Services
Take your skills from classroom to career.

Career and Professional Services helps students and alumni build professional connections and develop the skills you need to transform your studies to the career you want. We offer programs and services that help you identify interests and career goals, learn industry trends, and also connect employers, students, and alumni for professional opportunities.
Mon-Fri: 8:30 am - 5:00 pm
Parlett Moore Library, 4th Floor
We are the go-to career and employment resource for students, alumni, and employers. It's never too early to start preparing for your next career or professional move. Not sure the help you need? Check out what we do and talk with us about how we can help you:
Identify and refine your values, personality traits, interests, and career goals
Prepare for your job search with career coaching, mock interviews, resume writing, and other services
Find resources for graduate and professional school opportunities
Connect students and employers for career opportunities
Programs
We know how important it is for learning to also happen outside of the classroom. We work to connect employers and students with career-related opportunities that allow students to gain hands-on experience in an occupation or industry before graduating.
This program connects employers and students through recruitment activities and initiatives. We help employers schedule individual interviews, information sessions and tables, as well as classroom presentations.
Woo hoo, you graduated! Now what? As an alumni, you still have access to Career and Professional Services. Reach out to us for career coaching, mock interviews, and other job search support.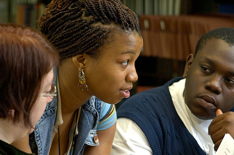 Student access for jobs and internships
To access your Portal in the College Central Network (CCN):

1. Click on "Students"
2. On the Student Services page, click "Create account"
3. Create an account with your Coppin Student ID
4. Set up a unique password
For Employers
Learn about our various opportunities for employers to connect with our Coppin students and alumni.
Employer access for jobs and internships
Register your organization for access to post jobs and internships, set up campus interviews and seminars, as well as schedule information sessions and tables.
Register now