College of Health Professions
Community Health Center
Mon-Fri 9:00 am - 5:00 pm
Health and Human Services Bldg., Room 131
Connected to the Community 
Our connection to our communities runs deep. We are not only invested in the success of our students, staff, and faculty, we are also strongly invested in our surrounding Baltimore communities. The Community Health Center is a love letter to local residents, and serves as a resource that expands access to quality healthcare. Our goal is to improve the health and lives of residents in the communities that surround Coppin.
It's a primary care health clinic located on the campus of Coppin State University. The Center provides readily accessible, low cost, high quality care to Coppin State University students, faculty, staff, administration and residents of the neighborhood surrounding the University.
On the campus of Coppin State University, the Center is in the Health and Human Services Building (HHSB) at 2500 West North Avenue.
The Dean of the College of Health Professions (CHP) leads the Center. Nursing faculty and professionals manage the facility, and provide clinical oversight to undergraduate and graduate students who have clinical placements there.
Nurse practitioners, CHP faculty and students, and physicians provide healthcare services. All professional personnel are properly licensed by the State of Maryland.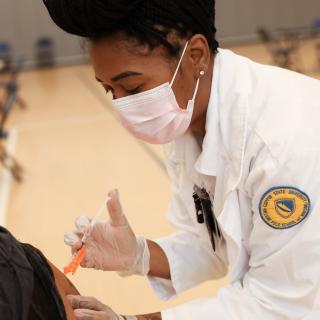 Flu Shot Updates
Worried about catching the flu? Stay up on the latest information about the virus and flu shots on the official site managed by the Centers for Disease Control and Prevention (CDC).
Patient Portal
New Patient Registration
If you are a new patient, please click on the link below. You will be presented with a series of registration forms which will create your confidential user profile in our online medical system.