Division of Academic Affairs
College of Behavioral and Social Sciences
Mon-Fri 8:30 am - 5:00 pm
Health and Human Services Building, Room 351
We are the explorers who connect the dots between how we think, how we behave, as well as how we create and govern our societies.
Preparing You for What's Next
Welcome to the College of Behavioral and Social Sciences (CBSS)! Whether you're a new or returning student to an undergraduate or graduate program, we're so excited to welcome you here.
We want you to consider CBSS faculty and staff your educational family. We are here to guide, nurture, and mentor you through your student journey. Count on us to assist you through personal and academic challenges, create life-enriching experiences, communicate openly, celebrate your successes, and prepare you for a lifetime of professional fulfillment.
The CBSS offers programs in psychology, counseling and behavioral health, criminal justice, social and political sciences, and social work. And they all hae something in common—they all work to answer and address human needs. Our programs graduate clinicians and professionals ready to meet increasingly diverse needs in the U.S. and beyond.
Our Departments and Programs
With 8 undergraduate programs and five graduate programs in four departments of study, CSU's College of Behavioral and Social Sciences provides a hands-on, interdisciplinary education that puts learning into action.
Small classes. World-class faculty. Personalized attention. An education tailored to your needs. Everything you won't find anywhere else. The College of Behavioral and Social Sciences gets you ready for what's next.
Learning Beyond the Classroom
Our beautiful academic facilities aren't the only places where learning happens. We continue to look for opportunities to learn and grow skills that complement classroom study. Take advantage of events, including:
CBSS Professional Conversation Series where you can meet alumni who've earned similar degrees
Fall and spring festivals where you can learn about educational opportunities
Graduate School 101 Workshop where you can learn what you need to prepare for graduate study
Our Tips to be a Successful CBSS Student
When our students are successful, we are successful! Throughout your journey with us, we encourage you to get involved, stay engaged, and speak up when you need help. We are here to help you grow, and challenge you to succeed beyond your wildest expectations.
For first-time and returning students, we know that College can feel overwhelming at times. So, as you go through your academic journey, remember to:
Visit your advisors often
Ask questions
Attend CBSS events
Connect with the Career Services Center for the latest on internships and job opportunities
Apply to become a CBSS Student Ambassador
Your college experience is what you make it, so take the time to make it an experience of memories you're proud to remember.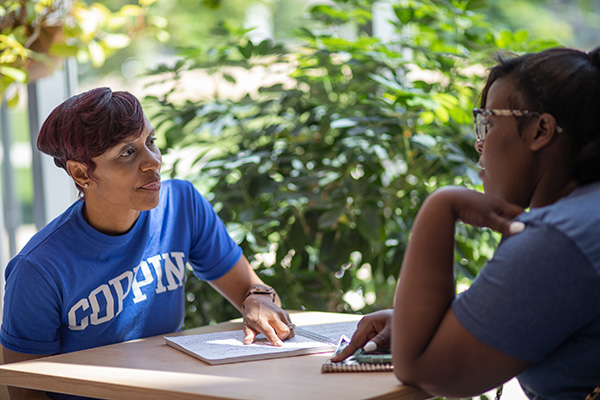 Student Success
The College of Behavioral and Social Sciences celebrates Dean's List students who have achieved a semester grade point average of 3.50 or higher. Students must also have completed at least 12 graduation credits and no grade of "D", "F", "CS" or "I".
Contact Us
CBSS faculty and staff bring a wealth of experience from both industry and academia. We commit to uphold the highest standards of the College and University, and provide students the guidance to lead transformative lives and careers.
Are you a prospective or current student with a question about the College of Behavioral and Social Sciences or one of our programs? Reach out to us!