Degree Type
Graduate Certificate
About
Learn how to put the pieces together to solve any investigative puzzle.
Introduction
Advance Your Investigative Career
Our Investigative Sciences certificate uses an innovative curriculum to teach the specialized skills needed to advance forensic and investigative careers to the next level. Graduate-level courseworks positions new professionals to enter public and private sector careers. For students already working in law enforcement or other investigative careers, this certificate teaches the skills that position you for advancement or leadership positions within a current or new organization.
Apply these certificate courses to our Master of Science in Criminal Justice!
Coursework guides students through the scientific method of investigation. Through this process, students learn how to:
Conduct civil and criminal investigations
Demonstrate understanding of death investigation
Apply basic skills around crime scene investigation
Prepare and conduct forensic interviews of victims, witnesses, and suspects
Testify in civil and criminal court proceedings
Demonstrate compassion during sexual assault cases and incidents involving missing children
Who Should Apply
This program is for anyone currently employed in the criminal justice system who wants to advance your skills and career. Because this certificate enhances professional preparedness and speaks to increasing demands on people within these fields, we encourage prospective and current police officers, supervisors, commanders, and any other criminal justice professionals to apply.
Certificate Requirements
To graduate with an graduate Certificate in Investigative Sciences, students must complete 18 credit hours:
Core Courses (18 credits)
| Course | Credits | Name |
| --- | --- | --- |
| CRJU 520* | 3 | Advanced Scientific Investigations |
| CRJU 521 | 3 | Crime Scene Investigation I |
| CRJU 524 | 3 | Death Investigation |
| CRJU 525* | 3 | Criminal Procedures |
| CRJU 526 | 3 | Investigating Missing Children and Human Trafficking |
| CRJU 527 | 3 | Forensic Interviewing |
**These courses are prerequisites to other certificate courses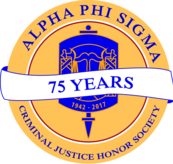 Alpha Phi Sigma
Coppin's chapter of the nationally recognized Criminal Justice Honor Society, Alpha Phi Sigma, welcomes undergraduate and graduate students studying criminal justice, criminology, or a related field.