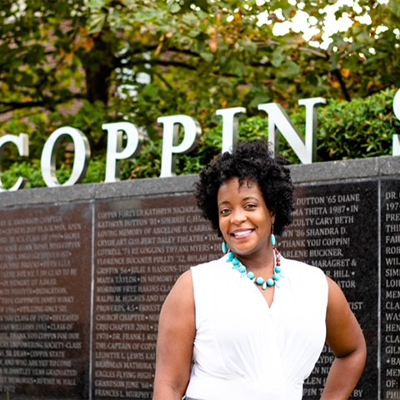 In 2012, after working over nine years at Johns Hopkins University, Terra Scott '97, resigned from her job to take care of her daughter who was undergoing a series of extensive orthopedic surgeries and physical rehabilitation. During that time, she began baking again to relieve stress, express herself and show her love through food. "Initially," said Terra, "I baked for friends and family, serving my desserts at gatherings." Her aha-moment came when she began receiving requests and payment to bake desserts. That is when she thought to herself, "I think I have something here and I really need to push this forward into a business." 
Terra shared her vision with her husband. "He was very supportive, encouraging and believed in my ideas from the very beginning. Our two sons and daughter thought me having my own business was pretty cool." Terra then acquired her ServSafe Managers Certification, an accreditation for those who handle food. She also took a few baking and pastry classes to learn the skills and the professional side of baking. Eventually Terra began vending at local farmers markets, regional festivals and catering intimate gatherings as Scotty Cakes Homemade Sweets. 
"All of Scotty Cakes delicious high-quality baked treats are 100% from scratch," said Terra. In fact, customer Imani Henderson hailed Scotty Cakes as being, "…made with every little bit of love you could possibly squeeze into a baked good." In addition to traditional sweets, Terra also bakes gluten-free and vegan treats. "Our gluten free and vegan treats are very popular. We have gained a loyal following who specifically support Scotty Cakes because of our scrumptious vegan and gluten free treats."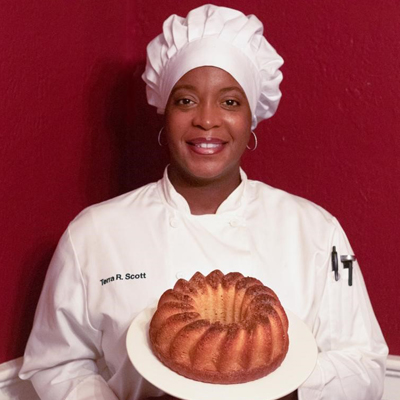 Terra promotes Scotty Cakes via social media — Instagram, Facebook (@scottycakesbaltimore) and through their Scotty Friends. "Another way we market is via our partnership with our clients - Walters Art Museum in Baltimore, MD and Umami Mediterranean Kitchen in Catonsville, MD. The Walter's Cafe carries our baked treats, exclusively, and we supply Umami with our vegan cupcakes. Many times, we have gotten business because our treats were purchased at the Walters Art Museum and Umami Mediterranean Kitchen." This fall her website will be e-commerce-ready to accept online orders.
While many small businesses have been adversely affected due to COVID-19, business for Scotty Cakes has continued. "Although Walters Art Museum shut down, we continued to get consistent orders from Umami and our Scotty Friends. Additionally, farmers markets are considered essential to the community, so we were able to vend at our market locations. With the push for supporting black owned businesses, we have also gained new and repeat customers during the pandemic."
Terra received her Coppin degree in Science, with a Biology concentration. She shared that her time at Coppin was full of encouragement. "I had great mentors such as Dr. Jacqueline Williams and Lisa Thornton, who I worked with in admissions. They helped me through some challenging times. I gained lasting friendships - which included befriending my husband, Hakim, who was also a Coppin student. My journey has been joyful," she concluded.