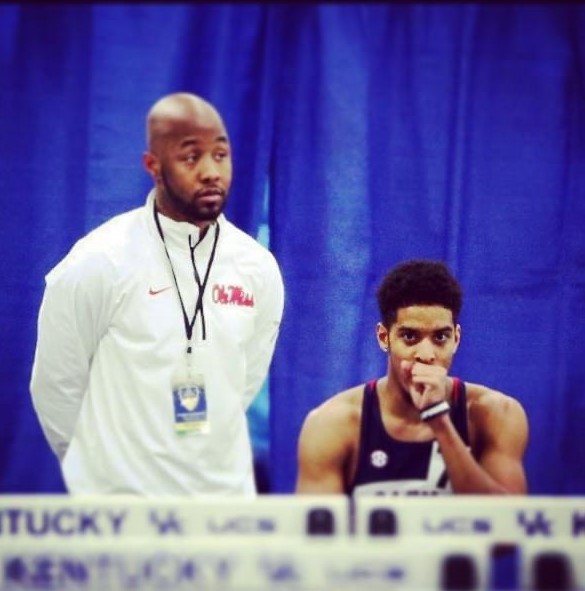 By: Brandi Randolph
There will always be struggles in your life, and the most important thing is how you choose to deal with those struggles. It can be difficult sometimes to know how to come up with solutions for specific problems, but the journey is worth it. Greg Lambert had some struggles to deal with, but he persisted and found creative solutions to his hardships and walked away from Coppin with his undergraduate degree.  
Greg grew up in Columbia, MD, with two parents who emphasized getting a college degree. He graduated from Hammond High, attended junior college for a year, and transferred to Frostburg University. Greg yearned for a better place for himself, both academically and athletically. Coppin State University turned out to be just that place for him. Initially, Coppin stood out to Greg because the university offers a Bachelor of Science in Sports Management. When asked why he was interested in this major specifically, Greg said he, "did not realize that was a major until Coppin showed [him] it was." He said, "Coppin saved my life when I did not know if college was for me."  
Greg was on the Men's Track and Field team for two years where he assisted with the Special Olympics. Greg described how helping with the Special Olympics brought the campus together. While Greg excelled on the track, he had some struggles off the track. Greg communicated that he had to learn how to effectively manage his dyslexia while getting his undergraduate degree. Greg clarified that "Coppin taught me how to work with my dyslexia by using the relationships I developed on campus. I learned that Coppin would help accommodate me but would not let my learning disability be my crutch," and it was not. He mentions how he worked with his dyslexia by making study guides, spending time with his professors after class, and using the study hall time in the athletics department. Through these strategies and perseverance, Greg graduated in 2006 with his Bachelor of Science in Sports Marketing. 
Someone that impacted his journey while at Coppin and after he graduated was his Men's Track and Field Coach, Coach Carl Hicks. He recounts that "he had a true impact on me as a student and man. I appreciate him so much more now and still talk to him to this day." Coach Hicks gave Greg his 1st opportunity to coach at the Division 1 level at Coppin as an Assistant Track and Field Coach after graduation. He then went to Delaware State in 2009 to receive his Master of Science in Sports Management. In Greg's 16-year career, he helped guide over 100 academic All-Americans, 17 NCAA All-Americans, 70 conference champions, 22 national qualifiers, and 62 regional qualifiers. He won four team championship titles and led athletes to four USA Junior qualifying spots, 35 school records, and 56 AAU All-American honors. Greg is currently the Recruiting Coordinator for the Track and Field Team at the University of Tennessee, Knoxville. Greg values his job as a Recruiting Coordinator because "I have an opportunity to work with young people. I like that I'm impacting students' lives positively". 
Greg shared some advice that he would like current and incoming students to know about life at Coppin and life after Coppin. He believes that students that "Come to Coppin come with an open mind. Many things will be thrown your way; take it one step at a time. Stay patient." 
Greg, keep finding creative ways to achieve your dreams, and we will follow suit.