The Thorntons, A Coppin Legacy Family
Some people choose a university that offers them the largest scholarship. Others pick one that suits their specific education and career plans. Lisa Marie Thornton '90 and Lauren Marie Angelety '20 came to Coppin following in the footsteps of Edna Marie Ennels Thornton '66, mother of Lisa and grandmother of Lauren. "I chose Coppin," said Edna, the eldest Thornton, "because my husband suggested it and I knew classmates who had attended." Lisa came, but a little reluctantly because her father, James Thornton was the Director of Career Planning and Development for the university at the time. "I thought, no way. I would never get a date with him there. Little did I know I would meet the man I would marry at Coppin." Lauren, on the other hand, was akin to a Coppin Knee baby. "I've been here at Coppin almost my entire life. My mother has worked in the administration building for as long as I can remember," she recalled.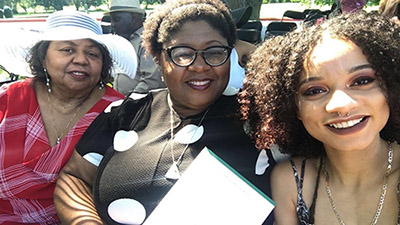 Each one's occurrences at Coppin were unique. Edna's focus was solely on academics and the degree. The other's Coppin experiences far exceeded expectations. Lisa loved the intimate environment, the professors, and the life-long friendships she built. "Coppin helped me find my voice," she shared. Lisa was active in student government, the Honors Association and the Management Science Society. She conducted campus tours for the Admission Office and still found time to have an active social life. "I played tennis and became a proud member of the Zeta Epsilon chapter of Delta Sigma Theta Sorority, Inc."
Throughout her years at Coppin Lauren said she had numerous wonderful encounters. "I participated in the 2016 Miss Gilded Gold Pageant and more recently, Coppin's Student Business Expo." Lauren also forged life-long friendships while on campus. "It's like I gained the younger siblings I never had—a family," she continued, "family that has never made me feel old, unless I had to admit my age."
When asked about Coppin Pride, each of the women described it with such fervor, Coppinites and non-Coppinites could feel the love. "Coppin pride is unity," explained Edna. "Coppin Pride is love, family and home. It's knowing that no matter what the struggle, when you get that degree you know you have earned it. You were checked on and valued as a student, but no one gave you an easy ride. That's Coppin pride to me," said Lisa. "I've been signing out every email since I started working here with "Yours in Eagle Pride." It's a deep and real thing for me and I mean it each time I use it.," she added.
"Coppin Pride to me," shared Lauren, "means love." "Coppin is forever tied to the history and legacy of our family and we are grateful for the experience," concluded Lisa.
Other Thornton alumni members: James H. Thornton '63 and '75; Lorell H. Angelety, Jr. '90; Macon Thornton '69; Yvette Smith Hill Caldwell '99; Stephanie Green Fitzhugh '98; and Benito D. Lake, Jr. '98