Alumni Stories
Amanda Mack '13, Serving Sweet Treats with a Side of Social Justice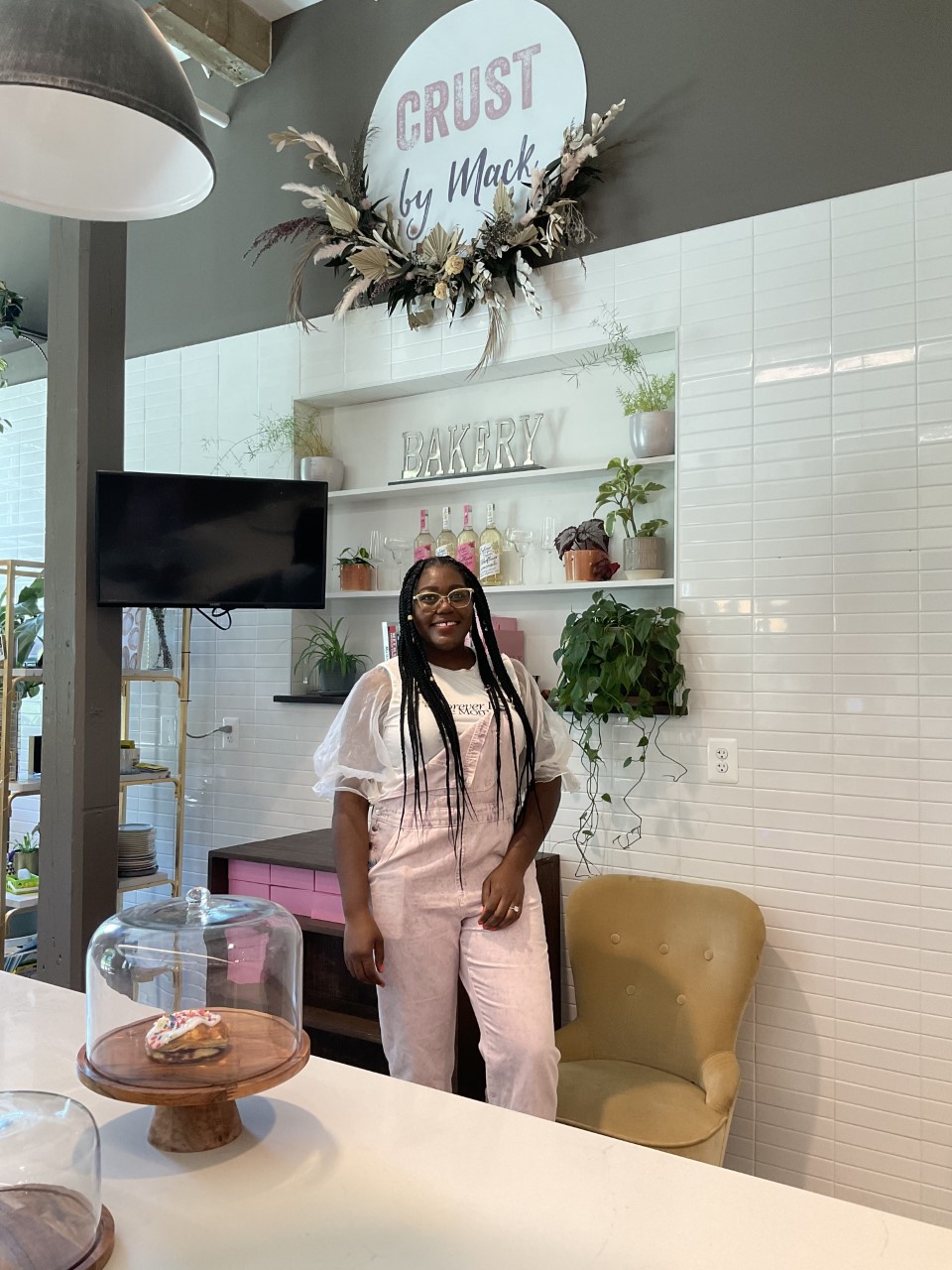 "I don't know what I would've done without Dr. [Garey] Hyatt, he was someone who believed in me and pushed me. He talked me through my ideas and planning and helped make sure I was on the right path," said alumnus Amanda Mack, '13. After graduating with a degree in art production, the philanthropist, innovator, and entrepreneur's course began with a stint in commercial America with "one of those jobs the pay well." But she wanted to do something that made her feel more connected to her people. "I wanted to work with a purpose," she said.
Amanda left the corporate rat race and started working as a chef at Dovecote Café in Reservoir Hill. "Their values aligned with mine." The longer she worked there the more excited she became about the possibility of opening her own business. "I wanted to start my own thing, my own bakery."
She and her husband Jarrod opened Crust by Mack, during the pandemic. Her pastry and baked goods repertoire include the classic cookies, brownies, and tarts, "but we are known for the crab pie. It's very Baltimore. It is our flaky crust," she said proudly. Crust by Mack's signature pastry is the Birthday Crust, mixed fruit and wild berry preserves inside a specially crafted pastry. Amanda described it as, "a party in your mouth."
What sets Crust by Mack apart from their competitors is the mission. "We're not just a bakery where waking up and thinking pastries is the only thing on our minds. We wanted to make sure we were built on entrepreneurial equity. We wanted to give back to different organizations," said the young impresario. "We found this business on helping others. It's not just about us. We are here to be of service," she explained. Amanda launched a fundraising campaign to raise money for struggling entrepreneurs during the height of the COVID-19 pandemic.
Always looking towards the future, there is a "next step" for Amanda. She and her husband are opening a venue, specifically geared towards Black creatives and entrepreneurs, to host events and market their brands at an affordable rate. "Because at a lot of venues here you must use their preferred vendors and their preferred caterers. All those things come with a price that price most, especially Black people, out of the venue. So, we wanted to create a space that was beautiful and elegant—because we deserve those things." Hyped, she continued, "Like yes, I'm Black, I'm beautiful. I'm excellent. And I want to be able to have something that is representative of all those qualities." Amanda is also considering writing cookbooks, developing recipes, continuing to raise more funds for the community, and partnering with other organizations.
"Coppin really does prepare you for life outside of college. You don't leave with just a degree. You leave with connections. And for current students, you can use those relationships when you step into your career outside of school," before she ended.