"'Bacteria, it's the only culture some people have' is a funny play on a bacterial culture which you normally only see in a petri dish," mused microbiologist and alum Ashley Queen, Ph.D. '09. "It's funny to nerdy folk like me." Ashley and her scientist contemporaries may find levity in their field, but microbiology is a serious and necessary profession.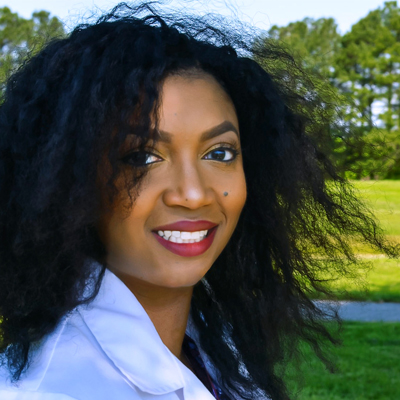 Microbiology, the study of microorganisms including bacteria, viruses, fungi and protozoa, examines a world both seen and unseen by the naked eye. "Germs are the most simplistic way to explain microbiology. They are everywhere—in our bodies, the air, the water, on other creatures. They all have one goal, to survive. And their method of survival is either beneficial or dangerous depending on the party we are focusing on. But they are so important to our environment and for our survival," she explained.
Ashley is the Director of Microbiology and Public Health for the American Cleaning Institute. She supports the growth and innovation of the cleaning products industry, "by advancing the health and quality of life of people and protecting our planet." "More specifically, I work on their technology team to examine and demonstrate the safety and effectiveness of product ingredients."
Ashley is well versed on the events of the day and views them from the lens of a scientist, particularly COVID-19 and the 'Black Lives Matter' movement. COVID-19 (also known as the Coronavirus and SARS-CoV-2) is the first virus of this century that has truly shook our planet, next to the tragic Ebola outbreaks. "This," observed Ashley, "is because everyone is at risk. The whole world seems to have actively had conversation at some point of how disease is spread within populations. This is music to a medical microbiologist's ears and humbling for everyone, to learn how much our behaviors play a role in the infectious disease process." 
Given the current climate afflicting Black lives, she protested and held a sign that read "Scientists Pull-Up for Black lives," adapted from celebrity Rihanna when she called for people to "Pull Up" and stand up for the oppressed. Too many times decisions are made by and around us that are unethical and part of pushing for a better future is to pay attention, speak out, and be an example no matter what field you are in.
In her unconventional approach to science and life, Ashley uses a podcast, 'The AQ Podcast, all the A's to your Q's,' to connect and educate. She creates episodes that coincide with current or relevant events and topics. "I call myself "The Unboxed Scientist." And that's because people often try to fit you into a box based on your career. My life is so much more than microbiology, and I refuse to not speak on it. I am happy to really get more time to dedicate to this type of outreach work as I enter this season of my career."
You can follow Ashley's Instagram page 'The AQ Podcast': @the_aq_podcast