Sunil Yadav '15, was born into, what he describes as "a lower middle-class" family in Nepal, India, nestled in the southern city of Birgunj. "I have incredible parents who allowed me the freedom to explore my passion and develop my work ethic," shared Sunil. A first-generation college student, he was awarded a full ride to attend Coppin through the coveted Golden Eagle Honors scholarship, to pursue a bachelor's in Biology and minor in Chemistry.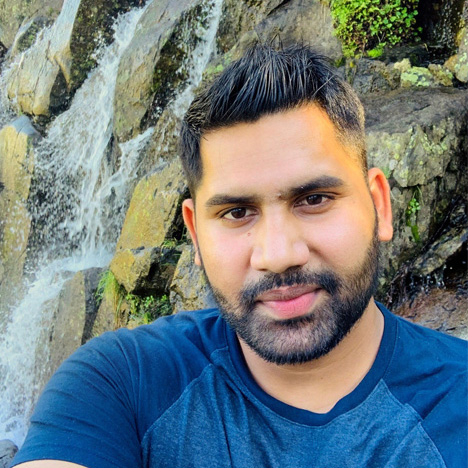 Sunil was passionate about biomedical research, and under the supervision of Dr. Jamal Uddin he was afforded the opportunity to engage in nanotechnology research. Sunil conducted his investigations on campus at Coppin's Nanotechnology Center, and at two external off-campus summer programs. One was at the Cardiovascular Center at the University of Michigan, and the other in Molecular and Quantitative & Computational Biology at Princeton University. He graduated summa cum laude. "These experiences shaped my curiosity in biomedical research and motivated my further pursuit of graduate education." Sunil worked tirelessly, pulling all-nighters, working on projects and studying for exams. His hard work was not in vain. He proudly revealed that he made the Dean's List every semester and received a litany of awards. "I won several awards, including "First Year Experience Rising Scholars Certificate of Excellence," "Excellence in Research as an Honors Program Scholar," "Outstanding Performance as a Student Researcher," "Soaring Eagle Award," "Freshmen Male Initiative Most Outstanding Mentee," "Freshman Male Initiative 4.0 award," "Biology Faculty Award"." 
While at Coppin, Sunil participated in the Constellation Energy E2 Energy to Educate program to pursue nanomaterial research. He also worked on organizing workshops, interactive experiments and field trips to increase enrollment of high school students into STEM fields. In fall of 2015, Sunil went to the University of Miami Miller School of Medicine Department of Molecular and Cellular Pharmacology, "where I joined Dr. Danuta Szczesna-Cordary's laboratory to investigate the molecular mechanisms and find therapeutic targets for a debilitating cardiac disease called Hypertrophic Cardiomyopathy." 
"I was also the recipient of the 2017 American Heart Association Predoctoral Fellowship for my doctoral dissertation project, titled "The Effect of Pseudo-phosphorylation of Myosin RLC on Improvement of Cardiac Function in Hypertrophic Cardiomyopathy." Because of the novelty and medical significance of my research, this project was also sponsored by a private donor award.
Sunil has been published in over a dozen peer-reviewed research publications. Two years ago, he was invited to participate in a conference talk session titled "Cardiomyopathies and Heart Failure" at the 2018 Myofilament Meeting Early Career Investigator (ECI) Symposium. He also spent the summer of 2019 at MyoKardia, Inc in the San Francisco Bay area, to further his study of cardiomyopathy research. Sunil plans to pursue a postdoctoral research scholar position so he can exam the biology of inherited cardiovascular disorders or designing exosome and lipid-based drug delivery systems, respectively. 
Sunil attributes his success to his outlook. "I have found PPEs to be useful in life—patience, perspective and empathy; and not letting other peoples' judgement and opinion affect the way we live our lives." Well spoken.