Housing Information for Parents
Mon - Fri: 9:00 am - 5:00 pm
Welcome to the Parents and Family Housing page at Coppin State University!
We hope this page is a helpful resource for some of your questions about our residential and campus community. If you have any additional questions or would like to speak to someone, please call or email us!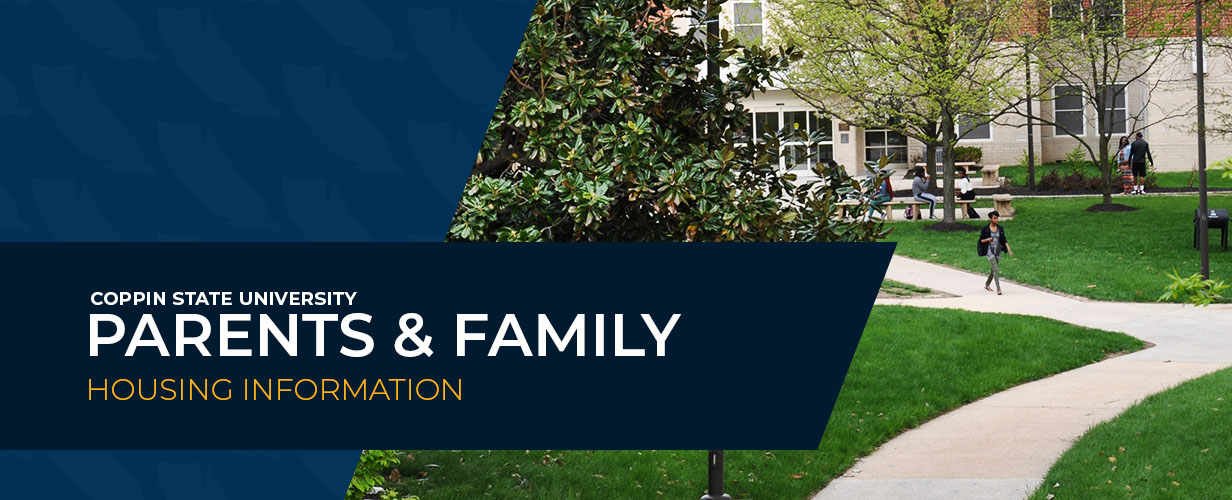 Housing
We have 2 buildings Daley Hall & Dedmond Hall. First-year students live in Daley Hall and our upper-class students live Dedmond Hall.
Housing Room Types
Our buildings are suite style with 2 persons per bedroom with a common living room and bathroom space inside the suite. 
Housing Amenities
Furnished, Free Cable (120 channels), Wifi, A/C and Heat, and laundry on the first floor. 
Checking In On Your Student 
Please note that the university and housing staff may not disclose any information from a student's record. This includes a student's room, building, or mailbox information. If any parent is concerned about the well-being of their student, they must contact the Office of Residence Life and Housing and request a wellness check. For more information regarding student rights, please review the  Family Educational Rights and Privacy Act (FERPA).
Meal Plans
All students desiring to live on campus, must part-take in the university's meal plan. There are three meal plan options: bronze, silver, or gold. For more information about these options, please visit Meal Plan Options. All cost associated with the meal plans are subject to change. Additionally, all updated charges regarding Housing and Meal plan costs will be posted later this year.
Roommate Problems?
If your student is experiencing a roommate concern or problem, please direct your student to speak with someone in the Office of Residence Life and Housing. From there, students will be encouraged to speak with their Resident Assistant about participating in a formal mediation process. For more information, please review the Residence Life section.
Additional Resources
Admissions
The college experience at Coppin State University begins with the Office of Admissions. Did you know you can apply to Coppin State University from our website? Whether you're an international student or a student from the United States, the Admissions Office is there to help you navigate your college admissions experience. Please visit the Admissions section to address any questions about the campus or the admissions process. 
Bursar
Questions regarding your student's bill and payment plans can be addressed at the Bursar and Student Accounts Office. You can visit the Bursar Office and Student Accounts section. Please note that any payments regarding Housing must also be made at this office. If you're inquiring about your student's Housing Fee and would like to make a payment, please call 410.951.6767. You'll be asked for the student's ID number and the credit card number upon the start of the phone call.
Financial Aid
Financial Aid is a great way to assist with the cost of your student's college education. If you have questions regarding financial aid, please visit the Financial Aid section. Financial Aid can be contacted by phone at 410.951.3636 or you can Send an Email, and a member of their staff will be in contact with you.
First Year Experience
Is a great office to get your student involved with the campus community. A multitude of opportunities ranging from campus events; to many service learning opportunities, and academic advising. The First Year Experience Office is where your student should start their educational journey. Advisors are available to assist first-year students with registering for classes. For additional information on this office and the services provided, please click here to view their webpage.
New Student Orientation
Congratulations for becoming a new Eagle Parent or Guardian. If you have any questions, related to New Student Orientation, visit the New Student Orientation section.
Counseling Center and Student Development
Attending college can be an exciting and enriching experience, but it can also be a time of many stressors. The Center for Counseling and Student Development is a safe place for your student to work on any issues that are creating distress or interfering with their academic success. For more information please visit the Counseling Center's section to discover ways your student can schedule an appointment. 
Student Life
If your student wants to get involved in a club, organization, sorority or fraternity on campus, this is the place to go. With over 80+ clubs and organizations there is something for everyone. For more information, please visit the Office of Student Life section and get involved today.
Housing Cancelation
Do you no longer need the on- campus housing you received? No problem! Download, complete, and return the Housing Cancelation form to the Office of Housing.