Eagle Love Springs Eternal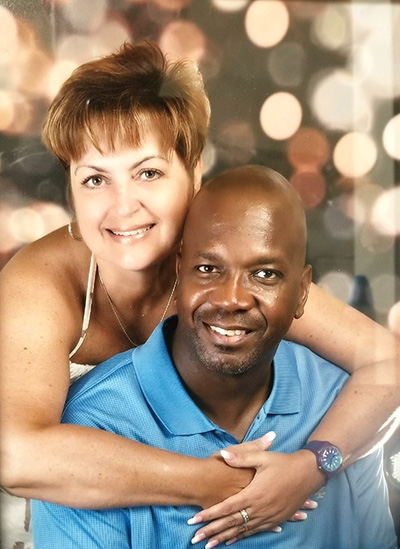 Bald eagles stay together until death, and they often return, year after year, to the place where they built their foundation. In true Coppin Eagle form, Grace Snowden '92 and Dwayne Nelson '89 often came back to campus for Homecoming. But one particular year, Grace showed up and Dwayne decided to sit it out. "I was at the carwash," said Dwayne, "and a guy that I played ball with called me and asked if I was coming to homecoming. I told him, "no." He was like, you should come up here. Everybody's asking about you." Grace, on the other hand, flew in from Chicago, where she was living, to attend the festivities. "I flew in specifically for Homecoming, not particularly to see Dwayne."
The two originally met when Grace worked as a statistician for the Athletic Department and Dwayne was part of the basketball team. They reconnected at Homecoming. Grace, however, returned to Chicago, but the two started talking to each other on the phone. "We would be on the phone until five, six o'clock in the morning," said Grace. They would have to force themselves to hang up in order to get at least a couple hours of sleep before going to work. "We had 20 years of time to catch up on," she added.
They were communicating on a consistent basis, but they were not a couple — yet. So, how did they get to dating? On one of her trips back to Baltimore, Grace and Dwayne decided to spend some time together. "It was purposeful for us to put the phone down and spend some actual face-to-face time together. We made plans," she shared. They went to Georgetown, DC.
Grace moved back to Maryland in September 2009. Surprisingly, the couple did not get engaged until July 19, 2020, in the middle of a move. It was the evening of Grace's birthday. She was packing. That was her job because she, admittedly, was a professional mover by lifestyle. "He was getting nervous that I was going to find the ring. He kept moving it around." Dwayne proposed later in the evening.
Grace and Dwayne's love is born out of their ability to talk to each other. It is their underpinning. "Because we're in an interracial relationship, having those open and candid conversations helped us learn from each other," Grace so humbly shared. And their friendship allows them to be honest and open with each other. "We say what's on our mind, you know, we're respectful of each other," Dwayne added.
"Whether you're from Coppin or anywhere else in this world, if you can express yourself freely and be understood as an individual, like Dwayne said, that's what's important in any relationship," said Grace. "You can have similar opinions and you can have your differences. My advice is just be able to have open and honest communication. It's a foundation for any relationship," Dwayne chimed in.
Just as the paired bald eagle continuously add to the structure they built and after many seasons it stands as a symbol of their fidelity. These two Eagles, Grace and Dwayne's foundation is equally as steadfast.