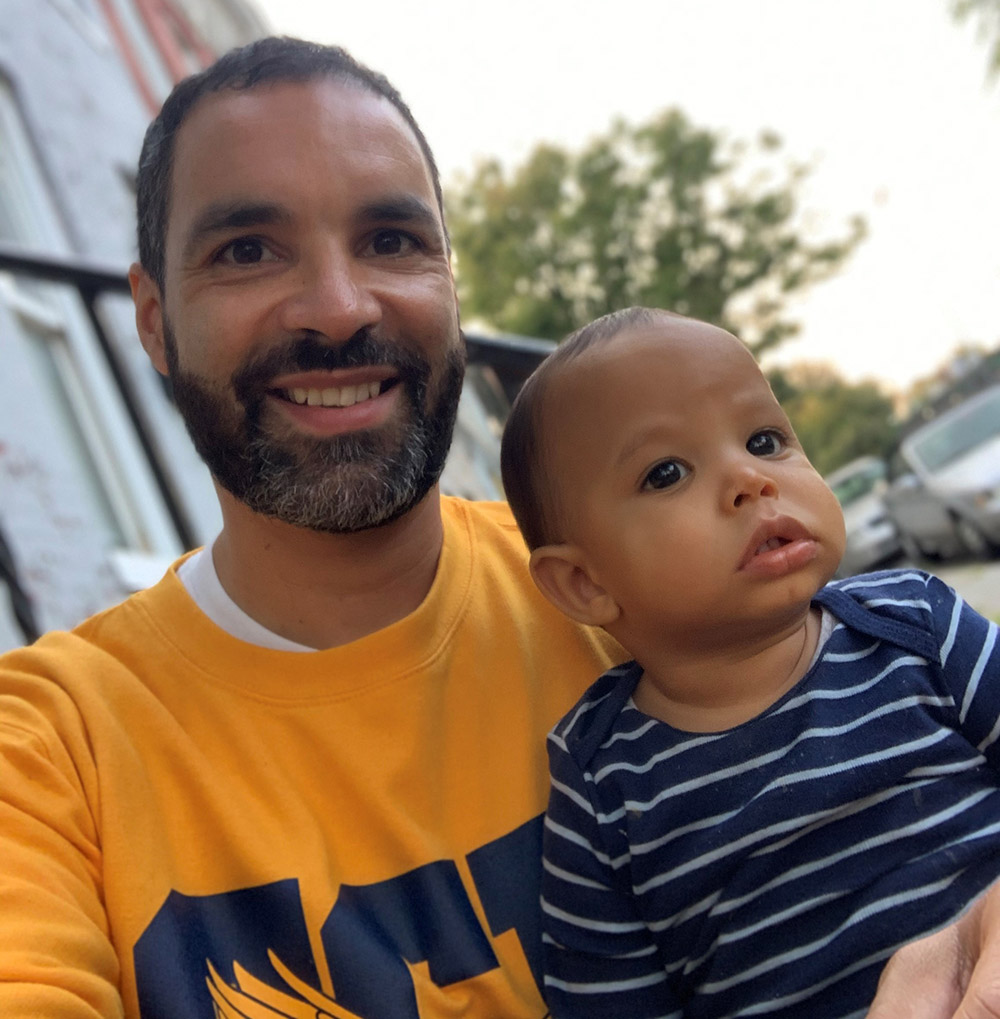 Andrew Brezinski '05 Came to Coppin, Saw It and Conquered
It is axiomatic to say that Andrew Brezinski '05, loves Coppin. He has spent his adult life at the university.
How he arrived at the university is kismet. "A high school friend of mine was going to UMBC and I literally moved down here with him because he didn't want to find a roommate. I wasn't doing anything in Brooklyn," he recounted. "I got a job at Hardy's restaurant, and one day they came to me and said we're closed…for good. Next day, I put on a shirt and tie. I went downtown. I went on a couple of job interviews, and a temp agency put me in Coppin as an office clerk for institutional advancement."
"Drew," as he is affectionately called, came to Coppin and never left. He attributes part of his duration to his then-manager Hattie Washington. She encouraged him to pursue a degree and to enroll in the university. He majored in Arts Production, Urban Arts. After graduating, one could say he literally walked from the stage to his desk.
Drew is currently Director of Creative Services for Institutional Advancement. He is a brilliant artist with the most congenial attitude. He sees beauty all over Coppin. So, when asked to describe his alma mater from the lens of a creative, this is how he explained it. "Well, in terms of the space, the campus is immaculate. It's a beautiful space. So visually, as soon as you walk on campus, you're looking at blue skies, green trees, freshly manicured grass, and clean buildings and facilities."
It's a stark contrast to his drive to Coppin. On his way to work he sees rows of abandoned houses and buildings and people struggling. "And so, the context of the space that Coppin is and my drive, it's real peculiar, but sort of magical intersection. So that gets painted for me every morning that I drive in."
Upon arriving on campus and before Drew gets out of his car, the first thing he does is meditate. "I don't want to call it a prayer, but I say a little something to myself and maybe it is a prayer. It's always something like, let me do the best job I can with what I have on my plate today; and tell myself, this is for the students.
Right before he concluded, Drew squeezed in how his home life interconnects with his livelihood. His wife, Trena is an Eagle, '06, and apparently so are his three sons, Andrew Jr. (8), Ellis (5), and Roman, who will be two this month. His two older boys romped their way through the Daycare Center; climbed the jungle gym and slipped down the slide. Roman is currently enrolled in the Center and is its official "waterboy," crying his way through the building, through coloring, through playtime, even lunch. Actually, Roman cries until he is picked up.  But, apparently, he is a resilient little fella because he keeps going back, even if it is not his idea.