School of Allied Health
Department of Health Information Management
Mon-Fri 8:30 am - 5:30 pm
Health and Human Services Bldg., Room 126
The work of doctors and nurses is critical to the quality of patient care—but so is the work of health information professionals.
Start Your HIM Career
As one of the fastest growing careers in one of the fastest growing industries, health information (HIM) careers place you where healthcare meets cutting edge technology. By studying health information, you'll learn versatile clinical, information technology, leadership, and management skills.
Health information professionals use their knowledge of information technology and records management to connect clinicians, administrators, technology designers, and information technology professionals. Our HIM program incorporates medicine, management, finance, information technology, and law into one curriculum. This unique mixture of concepts from multiple industries empowers our graduates to feel ready to work in a variety of settings across an array of healthcare environments.
Our program prepares you to be a Registered Health Information Administrator (RHIA). Whether you've already earned an associate's degree in HIM, are a Registered Health Information Technician (RHIT), or are interested in finishing your bachelor's degree, you'll feel at home at Coppin.
Paying for School
School can be expensive, but the good news is that financial assistance may be available for qualified students. If you are looking for federal financial aid in the form of loans, grants, and/or scholarships be sure to complete your Free Application for Federal Student Aid (FAFSA). The Federal Student Financial Aid Information Center can also answer financial aid questions at 1-800-433-3243. 
Coppin offers the only accredited HIM bachelor's degree in Maryland. Students network with field experts and gain practical knowledge by integrating course work with hands-on experiences. Our program is designed to support individual learning and prepare students to be effective health information professionals.

Mona Calhoun, Department Chairperson
Accreditation

The Commission on Accreditation for Health Informatics and Information Management Education (CAHIIM) is the accrediting body for the Health Information Management (HIM) program at Coppin State University. 
Questions about this accreditor or program accreditation status? Reach out to CAHIIM by mail, email, or phone.
CAHIIM
Suite 5100
200 East Randolph Street
Chicago, IL 60601
(312) 235-3255
Accreditation is a process led by governmental and non-governmental organizations to set standards for acceptable levels of quality education. These organizations create evaluation criteria, lead interviews, review student assessment data, and conduct peer evaluations to determine if a program or institution meets established criteria. Accreditation can be at the university-level, school-level, and also program-level.  
Accreditation ensures the education provided by a specific institution, school, or program meets a certain quality standard. It's important to note the U.S. Department of Education does not accredit higher education institutions or programs. However, the Department of Education does keep an official record of nationally-recognized accreditation agencies proven to be authorities on quality of education or training. The Department of Education may also consider the accreditation of a higher education institution when determining federal financial aid.  
Career Trends
The need for HIM professionals is content and even projected to increase as we become an increasingly connected digital society. Even better, critical thinking and technology skills learned in HIM programs and careers easily translate to other industries.
Career Growth and Income
Health information jobs are on the rise at all levels of education and experience. According to the Bureau of Labor Statistics (BLS), over 50% of new health information graduates with bachelor's degrees start with salaries in the $30,000 to $50,000 range. After 5 years, HIM professionals can earn upwards of $50,000 to $75,000 annually. Most new health information graduates with associate's degrees jump right in and earn $20,000 to $30,000 annually. These figures are just averages—many professionals report higher salaries.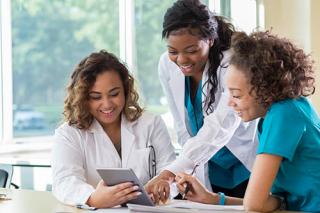 HIM Student Career Resources
Visit these organizations and learn how you can put your HIM skills to work within in-demand careers.