Jul 20 2023
Two Coppin State University Students Named 2023 White House HBCU Scholars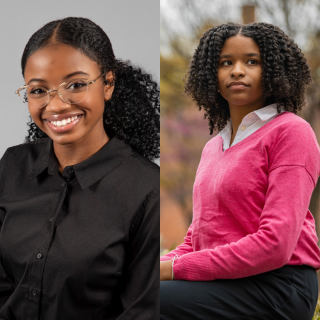 BALTIMORE – Coppin State University today announced the selection of Annalyse Belton ('24) of Trinidad and Tobago, and Tori Haynes-Harrison ('24), of Philadelphia, PA, as 2023 White House HBCU Scholars by the White House Initiative on Advancing Educational Equity, Excellence and Economic Opportunity through Historically Black Colleges and Universities. Belton and Haynes-Harrison, both rising seniors, want to address gaps and disparities they have witnessed in the fields of health and education.
"Our Eagles chosen to represent Coppin State University as White House HBCU Scholars are thought leaders committed to using their intellect, curiosity and knowledge to change the world for the better," said Coppin State University President Anthony L. Jenkins. "Annalyse and Tori are truly deserving of this prestigious honor. They set the bar for personal and academic excellence, and I have every confidence they will use this experience to continue uplifting our campus and the global community we share."
Annalyse Belton ('24) | Trinidad and Tobago
 Annalyse Belton ('24) is a native of Trinidad and Tobago who moved to the United States to pursue her college education. Belton is a rising senior majoring in biology and a minor in chemistry, who aspires to become a physician and wants to specialize in oncology.
"I have a passion for minority populations and the treatment in the community that are suffering from the respective disease," said Belton, who cites the death of her grandfather from prostate cancer, and health care disparities she sees in the Caribbean and in the United States for racial and ethnic minorities, as motivators for pursuing her career goals. "I'm really passionate about entering this field and just bringing knowledge and change because even if you help one person, that one person is a huge change."
Annalyse was a member of the 2022 NASA Student Airborne Science Activation (SaSa) class where she developed and presented her own research project on the effect of atmospheric particles on lung cancer development. Currently, she is an intern at University of Maryland Health Sciences Research Center in Baltimore, testing chemotherapy treatments with a new drug that targets and increases death of cancer cells.
 Annalyse is also conducting independent research with her mentor, Coppin State University Professor Mintesinot Jiru, Ph.D., testing for elevated estrogen levels and other contaminants in wastewater samples in the Baltimore area. Belton says elevated estrogen levels and other contaminants can ultimately affect the health of marine life, humans, and other animals.
Annalyse is excited to participate in the White House HBCU Scholar initiative, and to meet fellow students and professionals in various fields during this experience. She also is looking to expand opportunities for student involvement on campus.
"Currently on campus, most of the outreach activities are pertaining to a specific sorority or fraternity, which is great, but there are some students who are deterred if they're not in that specific sorority or not in that specific fraternity," she shared. "So having activities that are not connected, but another way for people to get involved, I think is really important, and this is a great opportunity to do so."
Annalyse Belton is a member of the Honors Program, incoming president of the Natural Sciences Club at Coppin State, and was named as a 2022 Featherstone Scholar.
Tori Haynes-Harrison ('24) | Philadelphia, PA 
Tori Haynes-Harrison ('24), is a native of Philadelphia, Pennsylvania, majoring in Early Childhood Education at Coppin State University.
Tori says that having only a few teachers who looked like her throughout her school career, and the consistent guidance of her kindergarten teacher, helped shape her desire to become an educator. 
"Kindergarten through high school, I only had like two or three black teachers. I feel like that's insane, especially since I went to schools in predominantly black areas."
Tori wants to teach second grade and ultimately become a school principal. She credits her experiences working and volunteering in Baltimore City Public Schools, as well as the Pathways to Professions program at Coppin State with helping to build her professional skills and confidence in diverse educational settings. This summer, Tori will intern with a boarding school in Massachusetts.
"As an educator, I just want to be somebody that the other children can look up to, somebody that they can relate to," she said.
Tori is vice-president of the Student Government Association for the 2023-2024 academic year, a member of the Honors Program at Coppin State, a student ambassador for the division of institutional advancement, as well as an intern for the Eagle Achievement Center, and the division of student affairs.  Tori says she is looking forward to this experience and in mentoring other students to follow in her path, "I'm already thinking about next year, who I'm going to tell to apply to it so that we can share this opportunity."
As 2023 HBCU Scholars, Annalyse and Tori will serve as student ambassadors for the White House Initiative and Coppin State; participate in the 2023 Annual National HBCU Week Conference workshops and classes centered on leadership, professional development, HBCU excellence and workforce development; and network with other scholars, federal agencies, and partners to develop and showcase their skills and talents.
Both Annalyse and Tori say they are looking forward to bringing back new resources and opportunities to Coppin State University's campus.