Jun 9 2022
Coppin State University Students to Participate in the NASA Student Airborne Science Activation Program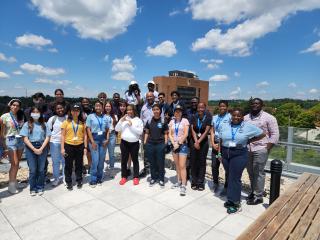 BALTIMORE – Three Coppin State University students are among 25 students taking part in the inaugural cohort of the NASA Student Airborne Science Activation (SaSa) program. The eight-week paid internship provides students with hands-on experience with research, data collection, analysis, and experimentation and exposure to geo, oceanic, and atmospheric sciences.
The Coppin State University students chosen for the 2022 program are:
Tochi Iwuji ('24), a sophomore biology major from Brandywine, MD;
Annalyse Belton ('24), a sophomore biology major from Middle River, MD; and
Muyang Chunga ('24), a sophomore biology major from Germantown, MD.
On June 10, the students will visit the campus of Coppin State University to attend lectures on emerging environmental contaminants and sustainable biomaterials. They will also tour the university's state-of-the-art Science and Technology Center, using the research facilities to examine air filters to understand what is in the air and analyze heavy metals in the water system. 

"This partnership with NASA and our collaborating institutions is a significant opportunity to nurture the next generation of scientists in science, technology, engineering, and math, while improving representation in those fields," said Coppin State University President Anthony L. Jenkins, Ph.D. "These talented students will have the skills needed to lead innovation for agencies like NASA. Their experiences will further open doors and allow them to explore interests and careers in STEM, before graduation."  

Students will be mentored by experienced faculty from six partner institutions, as well as researchers and scientists from NASA. During their internship, students will have an opportunity to fly aboard NASA's P-3 research aircraft to collect atmospheric data. They will also participate in additional workshops, networking, and professional development during visits to each partner institution: Coppin State University, Hampton University, Howard University, Morgan State University, University of Maryland Baltimore County, University of Maryland Eastern Shore, as well as NASA centers. The research and activities planned throughout the summer are designed to enhance their learning experiences and training as scientists. 

"Our goal in all this is to really entice students into the STEM disciplines and, eventually, interest them in joining federal agencies like NASA and NOAA, where the workforce needs minority scientists," said Dr. Mintesinot Jiru, Chair of the Department of Natural Sciences and Principal Investigator of the NASA-SASA program, at Coppin State University. "Through this partnership, we are able to build research capacity amongst partner institutions, enhance our undergraduate research experiences, and give our students new and diverse skill sets they can take with them into their fields." 

Students taking part in the program were selected out of nearly 160 students from across the country. They should have maintained at least a 3.0 GPA and have an interest in pursuing STEM degrees and careers.
Internship participants will receive a competitive stipend, housing, travel, and opportunities to present their research at national conferences. The program will end July 29.