Coppin Repertory Theatre
Current Theatre Season
The Overcomers Theatre Season 2021-2022
Blues For an Alabama Sky    
October 29-31, 2021 BUY TICKETS HERE
By Pearl Cleage
It's the summer of 1930 and the promises of the Harlem Renaissance are giving way to the dashed dreams of the Great Depression. Playwright Pearl Cleage tells a strikingly modern story about four friends whose lives and passions collide when an innocent newcomer from Alabama arrives in New York.
https://BluesAtCoppin.BrownPaperTickets.com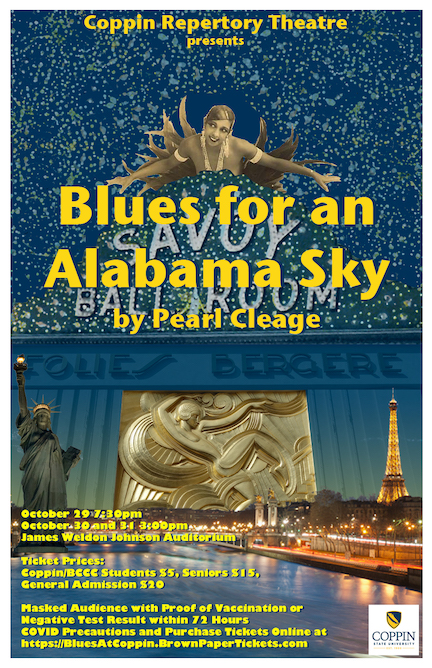 Private Wars
November 4-5, 2021
By James McClure
Popular anti-war comedy about the humorous and intense recovery of three Viet Nam Vets from physical wounds and PTSD.
The Colored Museum
December 10-12, 2021
By George C. Wolfe
A poignant, socially-conscious, satirical comedy, The Colored Museum is a depiction of black culture in America, especially relevant in today's world of "Black Lives Matter". Tony Award-winning playwright, George C. Wolfe, takes us on a journey of Black culture with an "in-your-face," non-apologetic, "take no prisoners" satire that electrifies, unsettles, and delights audiences of all colors.
The Glass Menagerie
April 22-24, 2022
By Tennessee Williams
An American classic of great tenderness, charm, and beauty, The Glass Menagerie is an icon of the American theater. Known as Tennessee Williams's autobiographical "memory play," we meet the Wingfield family—frustrated writer Tom, his nagging mother, Amanda, who is often lost in memories of her Southern-belle past, and his painfully shy sister, Laura—and the effect a visit from a "gentleman caller" for Laura has on all their lives.
The Theatre Program is within the Department of Humanities in the College of Arts & Sciences, and Education.