High School Student Admission
Mon-Thu: 8:00 am - 5:00 pm; Fri: 8:00 - 3:00 pm
Miles Connor Building, 1st Floor
Whether you're first in your family to pursue college or following in a long legacy of college grads, you can thrive at Coppin. Think you're ready to take that next step? See everything Coppin has to offer—and what we're looking for in our next class of Coppin Eagles.
We are looking for students who have completed or expect to complete the following requirements:
4 years of English
3 years of physical and life science (must include 2 years of lab experience)
3 years of social science or history (e.g. U.S. history, world history, local/state/national government)
4 years of mathematics (e.g. algebra, geometry, trigonometry, calculus, statistics, etc.)
2 years of world languages and/or advanced technology education
Students must also meet all requirements for attendance, service learning, and any additional local school system requirements, if applicable.
Did you know you may not need to submit ACT or SAT scores? Refer to our Standardized Test Policy to check if our test-optional policy applies to you.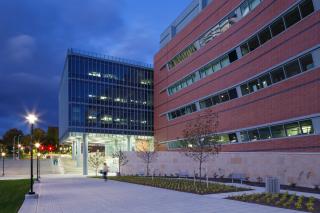 You belong here
With 64 beautiful acres, the Coppin State University campus is a hidden jewel in the busy Baltimore metropolitan area.