Minor in Criminal Justice
About
Our criminal justice system has a past and a present—learn about the complexities of structures, systems, and policies, so you can design a better future.
Introduction
Why minor in criminal justice?
Criminal justice touches many aspects of modern society. As our society, country, and world continue to look closer at our criminal justice systems and institutions, it becomes even more important to learn how we got here.
Maybe you don't have an interest in law and forensics, but you are interested in working with at-risk youth or underserved communities. Pursuing a minor in Criminal Justice can give you an overview of this broad field or even provide context for a different area of interest. It can also push you to develop and advance your communication and critical thinking soft skills that make you an asset to every employer.
You can choose to major in Criminal Justice.
750+ Course Options
The Coppin State University Academic Catalog has a wide variety of skill-building courses designed to inspire and prepare you to be in-demand professionals and transformational leaders.
Minor Requirements
To graduate with a minor in criminal justice, students must complete 21 credit hours with a grade of "C' or better in each minor course:
| Course | Credits | Name |
| --- | --- | --- |
| CRJU 301 | 3 | Introduction to Criminal Justice |
| CRJU 323 | 3 | Criminological Thought |
| CRJU 408 | 3 | Criminal Justice and the Constitution |
| CRJU 413 | 3 | Delinquency Prevention/Control |
| CRJU 416 | 3 | Field Service: Training and Internship I |
| CRJU 430 | 3 | Advanced Legal and Technical Writing |
| CRJU 431 | 3 | Fundamentals of Criminal Justice Research |
*CRJU 301 and CRJU 323 are prerequisite courses and must be taken before other CRJU courses.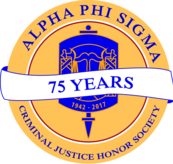 Alpha Phi Sigma
Coppin's chapter of the nationally recognized Criminal Justice Honor Society, Alpha Phi Sigma, welcomes undergraduate and graduate students studying criminal justice, criminology, or a related field.
Related Criminal Justice Programs