College of Business
Department of Management and Marketing
Work hard and play hard with programs designed to encourage entrepreneurship, develop global business professionals and leaders, and score wins—on and off the field. 
Mon-Fri 8:00 am - 5:00 pm
College of Business Building
Make Your Mark
Welcome to the Department of Management and Marketing! We offer a variety of degree programs that prepare students for professional, managerial, and entrepreneurial career opportunities in accounting, finance, marketing, management and information systems, as well as sport management.  
Business and non-business majors have the opportunity to apply theory to practice through our numerous collaborations with local businesses and private industry. The experiences we provide our students outside the classroom have helped students graduate into careers in private, public, government, and nonprofit organizations.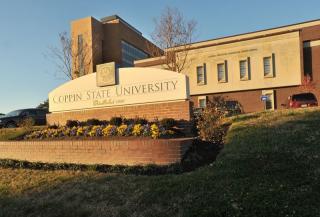 Online Degree in Management
Coppin has the only 100% online accredited business management degree offered at an Historically Black College or University (HBCU).
Our Management and Marketing Programs
Our management program builds leaders. With courses in human resource management, labor relations, nonprofit management, and organizational psychology, our curriculum includes diverse perspectives that promote applied critical thinking and strategic problem-solving. We even offer a 100% online management program students can access from anywhere in the world. 
Our marketing program prepares students to creatively and strategically build brand awareness. Sales management, international marketing, advertising, and market research classes provide global skills and perspective graduates can apply to any industry.  
Interested in managing or owning a sports team? Learn the skills to not only assume management and/or ownership positions, but also graduate ready to pursue graduate or professional school. 
Entrepreneurship and Innovation
Faculty and Staff
Our dedicated staff and knowledgeable faculty create rich and challenging learning experiences both in and out of the classroom. Faculty invest in ongoing research and regularly publish scholarly articles in regional, national, and international business journals. Our faculty are always striving to keep our curriculums updated, using their research to enhance the classroom experience.  
The Department of Management and Marketing is within the College of Business.