Mon - Fri: 9:00 am - 5:00 pm
Next Steps to Get Your Eagle Card
You've attended New Student Orientation. You've met with your academic advisor, and registered for classes. What's next? Getting your Eagle Card! You'll need to verify your identity, submit a photo, and present a class schedule. 
How to Verify Your Identity
Before we can take your Eagle Card photo, we must verify your identity. Please be prepared with 1 of the following official types of government ID:
Current passport
Military ID card with photo
Current U.S. state-issued driver's license or ID with photo
Official U.S. federal government ID with photo
How to Take Your Eagle Card Photo
You can submit your photo virtually or in person.
To submit your photo virtually:
Check your Coppin email for a message from Eagle Card Services to "Submit Your Photo"
Click on the "Submit Your Photo" link within the email
Enter your Coppin email address to request access
Take a fill head shot picture of yourself in front of a plain white or lightly colored wall (make sure you face forward and look directly at the camera)
To take your picture in person:
Visit Eagle Card Services on the 2nd floor of the Talon Center
Picture ID Requirements 
No headwear (religious coverings are acceptable)
No sunglasses (including prescription sunglasses)
Prescription glasses are ok—your eyes cannot be hidden, and the glasses cannot glare in your photo
No filters, other people, animals, objects, or added text 
How to Access Your Class Schedule
To get your Eagle Card, you'll also need to present your current class schedule. Only Coppin students registered for classes can receive an Eagle Card. 
To access your class schedule on a mobile device (i.e. cell phone, etc.), follow these steps:
Download the Eagle Mobile app available on the Apple App Store and Google Play. 

 
Once the app downloads to your device, open it. Then, enter your Coppin username and password.

Click on the top right square called EagleLINKS Login

 
Go to Schedule and scroll to a date that shows your class

Show the selected date and class to the Eagle Card representative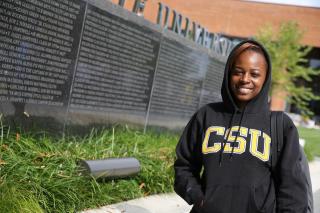 Eagle Card Resources
Your Eagle Card is much more than a campus ID.