How to Apply for Graduation
Look at you—we're so proud! You've made it this far, and now it's time to start thinking about graduation. Let's go over what you need to know so you'll be ready to walk across the stage in your cap and gown.
How do I know I'm ready to graduate?
You can visualize yourself wearing your cap and gown, and walking across the stage to get your degree. Here's what you need to accomplish to get there:
Earn at least 120 credits for a bachelor's degree
Complete all general education, major, minor, concentration, and Coppin requirements
Earn at least a 2.0 cumulative grade point average (GPA). Some majors require a 2.5 GPA—be sure to confirm your graduation GPA requirements with your advisor and department
Review your unofficial transcript for missing and incomplete grades
Finish all Incomplete (I) grades
Complete departmental exit assessment
Use your EagleLINKS account to verify the Office of Records and Registration has any course exception(s), substitution(s), and/or waiver(s)
How to calculate your grade point average
Not sure about your GPA? Use this tool to calculate yours.
Check your GPA
Graduation Application Process
The graduation application process begins with the student completing a graduation application. The document must be approved by the student's advisor, department chairperson, and College Dean. Once those signatures have been obtained, the application is submitted to the Registrar's Office for processing. Students who have completed this process should check with their appropriate College Dean's Office to determine their clearance to participate in the Commencement Ceremony.
Please note, a clearing to participate in the Commencement Ceremony only permits a student to attend the ceremony, but does not clear the student for graduation. Students who fail to meet degree requirement are notified by their department. Awarded students may verify their degree by accessing their unofficial transcript in EagleLINKS.
How do I apply for graduation and Commencement?
Candidates for graduation who wish to have their name appear in the Commencement booklet must do the following:
An Anticipated graduation date is established by the student's junior year.
The completed graduation application is then submitted for the upcoming senior year
The candidate is required to complete the graduation application (once it becomes available via email by advisor of the dept's application distribution process to advisee) in its entirety and sign it.
Approval for graduation is also required by obtaining the signatures of the advisor, chairperson, and dean of the major department
The Deans are to submit the endorsed approved graduation applications electronically to the Office of Records & Registration (ORR) graduation mailbox.
The graduation application payment portal (TouchNet) will become available to candidates once the ORR is in receipt of their graduation application.
How to verify your graduation application has been received by the Office of Records and Registration
Students/Departments may confirm their application status in EagleLINKS > Reporting Tools > Student Center.
The GA+/GA-, GF1 or SP2 indicators will notify students that their application has been processed by the Office of Records and Registration along with the following information:
Meeting the application's deadline date
Dissemination of diploma timeline
Deactivation of future enrollment
If student's name will appear in the commencement booklet.
Graduation Application deadline is available on the Academic Calendar.
Once the Office of Records and Registration processes your graduation application, we will deactivate your registration to prevent you from enrolling in any more classes after your graduation date. We strongly encourage you to submit your graduation application by the appropriate deadline because if not, your name will be excluded from the Commencement booklet
Important Graduation Deadlines
There are a few steps you need to take to be ready to graduate and walk across the stage at Commencement. 
| Graduation Requirements Completion Date | Degree Application Deadline | Commencement Ceremony |
| --- | --- | --- |
| Summer and Fall 2021 | February 8, 2022 | Spring 2022 |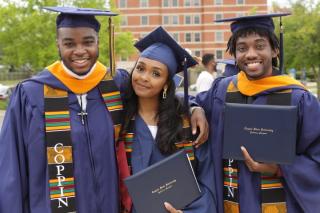 Get excited about graduation!
It takes more to graduate than just finishing your classes. Make sure you know your next steps.