Mon - Fri: 8:30 am - 5:00 pm
Health and Human Services Building, Suite 349
Hometown: Jessup, Maryland
High School: Long Reach High School, Columbia, Maryland
Graduate School: University of Maryland, Baltimore—M.S., Community/Public Health Nursing
B.S. Nursing, 2008
Sociology Minor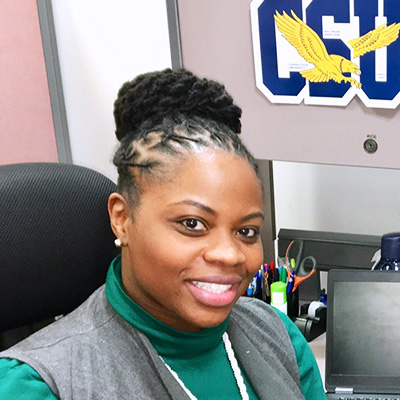 Since completing the Honors Program and receiving her degree from Coppin, Dara Foster has held many important positions in the field of nursing to include labor and delivery, fetal diagnostic care, research, community/public health, quality and safety/regulatory, and compliance nurse.
In her 10 years as a nurse, Dara has found her niche in Community/Public Health, where she emphasizes health promotion and disease prevention to ensure the quality and safety of all patients. In recent years, she has served as Immunization Nurse Consultant at Maryland's Infectious Disease Epidemiology Outbreak Response Bureau, and, currently, Dara is a Nurse Consultant at the Centers for Medicare and Medicaid Services within the Center for Clinical Standards and Quality. In this position, she interprets clinical program requirements; formulates policies, methods, and procedures; and monitors and evaluates the integrity of clinical aspects of program operations.
In keeping with her personal goals and with strong encouragement from the Honors Program, Ms. Foster earned her master's degree in Community/Public Health Nursing from University of Maryland, Baltimore.
"My participation in Coppin State University's Honors Program was a privilege that I did not take lightly. I was recruited to the University and the Program at a Howard County College Fair. As I learned more about what each had to offer, my mother and I knew that it was the school and program for me. As an Honors Program member, I took part in graduate school visits to West Virginia University and Washington State University and received GRE preparation. Seminars, such as the Myers-Briggs Personality Test, and local community service opportunities shaped me and left a permanent mark on my life. (I received) 'nuggets' that not only assisted in my own development but gave me what I needed to assist in the development of others."
"Lastly, my Honors Program classmates and the Honors staff—the faculty, deans, administrative assistant, and counselor—were like family. There was not a day during my years at CSU that I could not personally reach out to staff for any need. They were always available and went above and beyond to ensure the success of students."