May 11 2023
Media Advisory: Coppin State University to Host 123rd Commencement on Friday, May 19, 2023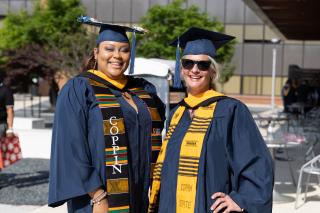 BALTIMORE – Coppin State University will celebrate more than 400 graduates in the Class of 2023, during its annual Commencement on Friday, May 19, 2023.  Maryland Governor Wes Moore will serve as keynote speaker, delivering his first Commencement address as the 63rd Governor of Maryland.

Coppin State will confer nearly 400 undergraduate degrees during the ceremony. Graduates will participate in a processional from the Parlett L. Moore Library quad, past the statue of Fanny Jackson Coppin at the center of campus, to the fields of the Physical Education Complex to begin the ceremony.

Class of 2023 Highlights:

More than 300 bachelor's degrees, nearly 50 master's degrees, and one doctoral degree will be conferred during the ceremony.
Four graduates will be commissioned as members of the U.S. military during the ceremony.
The youngest member of the Class of 2023 will be graduating at 19 years-old.
She intends to return to Coppin to pursue a B.S. in Nursing
The oldest graduates in the Class of 2023 (3) will be graduating at 68-years-old.
At least three Coppin Eagles will be graduating in the class of 2023 with members of their families who attend Coppin or another University System of Maryland institution.
Commencement 2023 Event Details:
What: Coppin State University Commencement
Who:  
Governor Wes Moore
Chancellor Jay A. Perman, University System of Maryland
Chair, Linda R. Gooden, University System of Maryland Board of Regents
Anthony L. Jenkins, President, Coppin State University
When: Friday, May 19, 2023 | 9 a.m.
Where:
Physical Education Complex Soccer Field
Coppin State University
2500 W. North Avenue
Baltimore, MD 21216 (Campus Map)
Press Note: Press planning to attend Commencement must RSVP by Tuesday, May 16, 2023 by 4 p.m. RSVP should be sent by email to rmccullough@coppin.edu
Limited parking will be available on campus in Lot H. 
More information about commencement can be found at https://www.coppin.edu/student-life/commencement.
Commencement will be live streamed at https://www.coppin.edu/watch