May 21 2020
ESPN's The Undefeated Featuring Coppin Student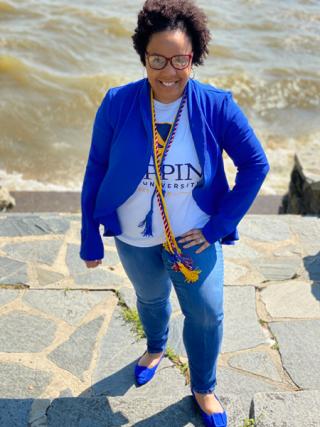 ESPN's The Undefeated to Feature Coppin Student in HBCU Day Tribute to 2020 Graduates with Messages from Barack Obama and More on May 23
ESPN's The Undefeated will feature Coppin State University (CSU) graduating senior Veronica McCoy in a special HBCU Day virtual event to celebrate 2020 graduates of Historically Black Colleges and Universities (HBCU) that will include congratulatory message from prominent African American including former President Barack Obama, Grammy Award winner Toni Braxton, actor Omar Epps, U.S. Senator Kamala Harris, Hall of Fame NFL receiver Jerry Rice and more on May 23. 
The event will display inspirational message videos from more than 20 HBCU valedictorians and ambassadors, including McCoy on The Undefeated content platform which explores the intersections of sports, race and cultures. Utilizing the hashtag #UndefeatedHBCUDay, the virtual celebration will feature a collection of videos and written content shared throughout the day across The Undefeated's social media accounts (Twitter, Instagram and Facebook). A video message from the 44th U.S. President, Obama, will post at 1 p.m.  
Other African-American celebrities to participate include: ESPN First Take commentator Stephen A. Smith, NFL running back Tarik Cohen, sitcom Grown-ish actor and rapper Trevor Jackson, sitcom Black-ish actor Anthony Anderson and many more prominent educators, actors, comedians, professional athletes and elected officials who are graduates of HBCUs.
CSU's McCoy is a social work major, the senior class president, and recipient of the Fanny Jackson Coppin Award. In addition to having a job and a family, she also serves as the president of CSU's Social Work Association and is a member of the university's commencement committee.