Oct 28 2023
Coppin State University Signs Transfer Agreement with Colorado Community College System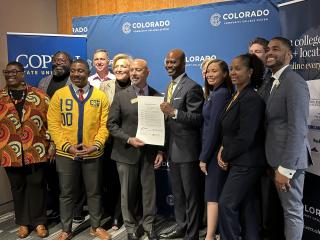 BALTIMORE – Students who complete their associate degree in the Colorado Community College System (CCCS) can now transfer to Coppin State University and pay in-state tuition rates as part of a new transfer agreement between CCCS and Coppin State.
Coppin State University President Anthony L. Jenkins and CCCS Chancellor Joe Garcia celebrated the new partnership with a signing October 26, at the Community College of Denver. 
"This partnership with the Colorado Community College System is exciting and creates a pathway that allow more scholars access to our nationally recognized healthcare, business, social science, and STEM programs," said Coppin State University President Anthony L. Jenkins. "At Coppin State students come from around the world to study, reach their full potential, and build the lives they dream of, while enjoying an incredible urban HBCU experience, at Maryland's most affordable university. We look forward to welcoming more students from Colorado to Eagle Nation."
This partnership with CCCS is the first out-of-state transfer agreement for Coppin State. This is the third agreement with a Historically Black College of University (HBCU) for CCCS as part of its Bridge to Bachelor's Degree Program, which guarantees new, first-time students admission to participating four-year institutions when they complete an associate degree. 

Colorado is one of the 40 U.S. states and territories covered by the Expand Eagle Nation initiative, which allows students who live in states with limited access to an HBCU, to pay the same tuition as Maryland residents while they earn their undergraduate degree at Coppin State University. The initiative received approval from the University System of Maryland Board of Regents earlier this year.
Colorado has several Hispanic-serving and minority-serving institutions, but there are no federally designated HBCUs. For more information on the Bridge to Bachelor's Degree program, visit the
CCCS website. 
For more information about Coppin State University, visit www.coppin.edu.