Aug 23 2023
Coppin State University to Offer In-State Tuition to New Out-of-State Students from More than 30 States and U.S. Territories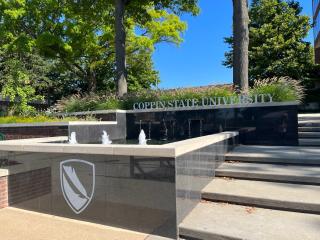 BALTIMORE – Coppin State University today announced new full-time undergraduate degree-seeking students admitted to the university from more than 30 states and U.S. territories outside of Maryland, will be eligible to pay in-state tuition upon enrollment. The innovative proposal, which will take effect Fall 2024, was approved by the University System of Maryland Board of Regents during a meeting at Coppin State University earlier this year.
"At a time where more individuals and families are questioning the value and cost of higher education, our goal is to reduce barriers and increase access to the quality education Coppin State University provides, at an affordable price." explained Anthony L. Jenkins, president of Coppin State University. "Coppin State gives our students a transformative educational experience in an environment that nurtures, challenges, and empowers them, regardless of their racial or socioeconomic background. Although our students graduate with student loan debt below the national average, with this initiative, we are demonstrating the return on investment for degree-seekers, by further reducing the financial cost, and allowing students to enjoy the holistic experience of their college years."
During the 2022-2023 academic year, 85 percent of students enrolled at Coppin State resided in Maryland, and 15 percent of students resided in another state. Offering in-state tuition for some out-of-state students will allow Coppin State to expand its enrollment footprint, increase its recruitment of out-of-state students, and strengthen relationships in states where students could have interest in attending an HBCU, either as a first-time or transfer student. The newly adopted tuition policy also strengthens retention of students from lower-income families, by allowing grants, scholarship, and other dollars to go further, by reducing overall cost. 

Coppin State University, a member institution of the University System of Maryland, is the most affordable four-year college or university in the state, with tuition and fees costing $7,001 per year for full-time undergraduate students taking 12 or more credits. The in-state tuition rate for students will apply once the student is admitted and enrolls at Coppin State. Eligible students will continue to pay the in-state tuition rate while pursuing their undergraduate degree at Coppin State.
The in-state tuition offer does not apply to returning undergraduate students, or students pursuing a graduate or doctoral degree.
Coppin State University serves as a key force in facilitating upward mobility for its students and positive economic impact for the state. The economic impact of Coppin State is supported by its outcomes, with 70 percent of Coppin State graduates opting to stay in Maryland after graduation, and 48 percent choosing to live and work in Baltimore City. 

Prospective students living in the following states and U.S. territories are eligible for the in-state tuition incentive: Alaska, Arizona, California, Colorado, Connecticut, Delaware, Idaho, Illinois, Indiana, Iowa, Kansas, Maine, Massachusetts, Michigan, Minnesota, Montana, Nebraska, Nevada, New Hampshire, New Jersey, New York, New Mexico, North Dakota, Ohio, Oregon, Pennsylvania, Puerto Rico, Rhode Island, St. Croix, St. John, St. Thomas, South Dakota, Utah, Vermont, Washington, Washington, D.C., Wisconsin, and Wyoming.
For information on the in-state tuition incentive and applying to Coppin State University, visit https://www.coppin.edu/office-admissions.