Mar 4 2022
Coppin State University to Adopt Mask-Optional Policy Beginning March 7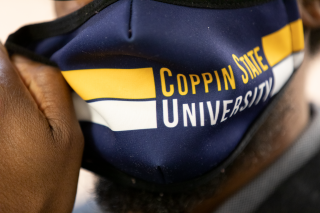 Coppin State University president, Anthony L. Jenkins, today, announced the members of the campus community and visitors are no longer required to wear masks indoors while on campus effective, March 7, 2022. The shift to a mask optional policy follows the end of  the state of emergency, in Maryland, and the end of the City of Baltimore's mask mandate, as of March 1.  
"Managing personal health and well-being always involves responsibility and accountability on the part of individuals," said Dr. Jenkins. "Members of the community who wish to continue wearing masks on campus to safeguard their personal safety are fully supported and encouraged to do so. At this time, there is no need for Coppin State University to mandate mask-wearing on campus." 
Masks are still required when entering the health center, while inside the athletic training room, and while undergoing COVID-19 testing. For the month of March, all individuals are required to test during week 1 and the week after Spring Break. The University's COVID-19 Task Force will review testing data collected after Spring Break, which runs March 20-March 25, and will provide any updates to campus testing for the remainder of the semester. Coppin State University has reported an average positivity rate at or below the surrounding city and counties, since the beginning of the pandemic. 
Dr. Jenkins commended Coppin State University community for taking steps that allowed the university to no longer require masks on campus. "I would like to thank Eagle Nation for its willingness to stand together and do what is necessary to help return our campus to a vibrant place where we learn and grow together. I remain committed to doing what is necessary to keep the Coppin State University community safe, while also moving us forward and onto new heights."