Sep 26 2023
Coppin Golf Classic Raises $100,000 to Support Student Athletes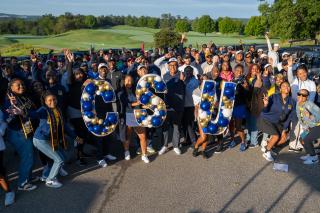 BALTIMORE – Coppin State University raised $100,000 to support the needs and development of Coppin State student athletes, during the 20th Coppin Golf Classic, held September 20, at Greystone Golf Course, in White Hall, MD. The Coppin Golf classic met its $100,000 fundraising goal for 2023, and surpassed the amount raised during the 2022 Coppin Golf Classic.
"We appreciate the alumni, faculty, staff, and friends of Coppin State University for celebrating another milestone with us for the Coppin Golf Classic," said Anthony L. Jenkins, president of Coppin State University. "Their generosity, and commitment allow us to strengthen support for our student-athletes as they continue to excel in competition and in their academic pursuits. With their unwavering support, Coppin will remain a university where scholars and champions are made." 
Coppin State student athletes lead the MEAC with an 89 percent graduation success rate.
"Those who joined us for this year's Coppin Golf Classic continue to show up in big ways to support Coppin State University and our students," said Joshua Humbert, vice president for institutional advancement. "Philanthropy with impact goes beyond the amount of money raised. It extends into the lives we can change and the generations we can uplift with the help of individuals who care about building a brighter, vibrant future. We look forward to building on this momentum for years to come."
In addition to playing in the golf tournament, the 169 participants also had the opportunity to bid on auction items and enjoy an experience geared toward non-golfers, which included a golf clinic, wine tasting, live music, and a cigar rolling lesson.
All proceeds from all golf tournament activities will support facility improvements, scholarships, and academic resources, facility improvements, and scholarships for Coppin State Athletics. 
If you are interested in supporting Coppin State University, call 410.951.3800 or visit https://www.coppin.edu/give.