Sep 30 2022
Coppin Golf Classic Raises More Than $70,000 to Support Student Athletes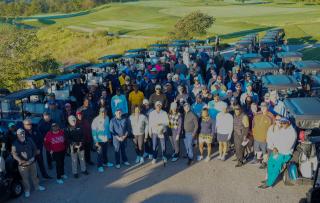 BALTIMORE – Coppin State University (CSU) raised more than $70,000 during the 2022 Coppin Golf Classic event, held September 28 at Greystone Golf Course, in White Hall, MD. Proceeds from the golf tournament are dedicated to improving the holistic development and completion rates of CSU student athletes, through scholarships, athletic equipment, and additional academic resources.
"We are grateful to the Coppin State University community and supporters of our university for joining this year's Coppin Golf Classic," said CSU Athletic Director, Derek Carter.  "You are showing our student athletes, through your contributions and commitment, their successes in their sport, and in the classroom matter. Your support and presence show there are so many people who believe in them, and that truly makes a difference."

During the tournament, Darnell Sutton, Chairman and CEO of Hollywall Entertainment, announced financial support to create a golf team at CSU. Sutton's son, Christian Sutton, is a current member of the CSU Men's Basketball team.
In 2022, CSU student-athletes were recognized nationally for their accomplishments, including, recording an 89 percent Graduation Success Rate, (the highest in the Mid-Eastern Athletic Conference or MEAC), and winning a MEAC baseball championship, which led to an NCAA Tournament appearance. CSU is one of 13 Division 1 schools to receive the NCAA Accelerating Academic Success Program initiative grant this academic year, which will support tutoring services, technology upgrades, scholarships, and other supports for student-athletes.
The event featured more than 100 golfers, including CSU President Anthony L. Jenkins, CSU faculty and staff, as well as representatives from corporate partners and sponsors, including BGE, Daly Computers, and Whiting Turner. Twenty-five corporations and individuals sponsored the event, donating more than $56,000 to support student athletes in their academic and athletic pursuits.
"As Chair of the Coppin State University Development Fund and a former Coppin student-athlete, I am pleased to sponsor the Coppin Golf Classic and would like to extend my gratitude to the Coppin community, golfers, and all the other sponsors responsible for making the tournament a success each year," said Alicia Ritchie, a sponsor of the event, and former Women's Basketball player. Ritchie earned bachelor's and master's degrees from CSU. "This is a wonderful event that continues to lead to greater awareness of Coppin's mission, and the incredible benefits the university has to offer all its students."  
This past spring, 25 of the 26 student-athletes who graduated in the Class of 2022, finished with at least a 3.0 cumulative grade point average.
Alumni, public, and corporate partners interested in supporting Coppin State University can visit https://www.coppin.edu/give.