Mon-Thu: 9:00 am - 4:30 pm
Fri: 9:00 - 3:00 pm
Physical Education Complex, Suite 272
E911 Emergency Alert System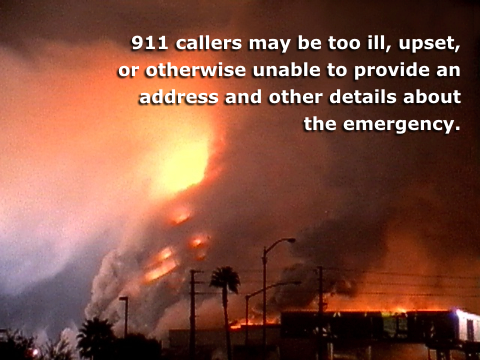 The E-911 system is an emergency alert system that identifies the specific location of the caller and directory telephone number.
Any person who dials "911" from any campus phone will instantly be connected to the Baltimore City Police Department through the E-911 system. The Coppin State University Police Department will simultaneously receive an emergency alert with the building and location. An officer will be immediately dispatched to that location.
Benefits
Foremost is the benefit of ensuring that emergencies and life-threatening situations can be reported immediately and responded to with geographic accuracy—thus preventing injury or death and/or minimizing property damage (as in a fire situation). This also prevents wasting community resources by saving the time spent when first responders have to search for an emergency location.
Secondly, there is a strong public relations advantage because the University can more easily attract students, faculty, and staff as the community becomes aware of the enhanced safety and security now instituted at the University.
Thirdly, the University is now much freer of liability and financial risk related to a human tragedy or property loss that might result from an insufficient or flawed 911 system.
Finally, the University has established itself as a leader in the field of enhanced 911 and has committed to helping acquaint other educational institutions and organizations with the methodology and benefits associated with the new technology. This means that the benefits experienced directly by the University can be extended to other organizations to prevent injury, loss of life, or other tragedies through an E911 solution.
"Both the campus police and the ambulance staff knew exactly where to find me, and they arrived very quickly," she said. "As a person involved in health care, I really appreciate that kind of fast, efficient response. My fellow students and I feel more safe and secure, knowing that the 911 system works so well."

Reemell Hercules, a Coppin State nursing student who used the E911 system for a medical emergency
Background and Project History
The University's IT team tackled a serious problem that faces many universities and other large organizations that have centralized telecommunications systems: the inability to provide accurate location information on 911 calls.
Location information provided through a centralized PBX in a traditional, Voice over Internet Protocol (VoIP), or hybrid telecommunications environment may be either inaccurate or too general to help first responders find the exact emergency location. At the same time, 911 callers may be too ill, upset, or otherwise unable to provide an address and other details about the emergency. The result is greater risk to lives and/or property as responders spend time trying to find the emergency location.
Originally, 911 calls from Coppin State provided the 911 center with only one general location, regardless of where on campus the call originated. To address this, the University issued regulations requiring that all emergency calls be directed to the campus police, with location provided. Campus police would in turn notify 911 and meet the emergency responders when they arrived on campus. However, people still tended to call 911 directly. This resulted in the arrival of ambulances and fire trucks on campus that did not know the source location of the emergency call, and campus police could not direct them if they had not been notified about the location of the emergency.
About E911
Ahmed El-Haggan, PhD, Vice President of IT, CIO, and Computer Science Professor, commented, "In view of campus tragedies such as sniper incidents and other types of concerns faced by an educational institution, we felt that we had to find a foolproof technological solution for 911 calls. At a technology conference, we heard about an industry-wide movement toward a second-generation 911 environment that was giving rise to innovative 911 solutions. Through the contacts we made there, we were able to launch a project that ultimately resulted in a very solid 911 solution for Coppin State that is helping us achieve a safer campus environment."
The University IT team worked with engineers from Avaya and Presidio Networked Solutions to develop their enhanced 911 (E911) solution. eTelemetry was selected as the vendor that would provide the location and alarm appliances.
The project began by updating the voice telecommunications infrastructure, consolidating 2500 TDM and IP handsets onto one Avaya Communication Server 1000E (CS 1000E) telephony platform. Then the team developed enhanced 911 with automated location information. Avaya and Presidio were responsible for the E911 design based on information provided by the University, including all phone location data, routing zone layouts, handling of E911 calls, and change management recommendations to keep switch and location information current.
Through its E911 PROJECT, Coppin State has implemented a well-planned, carefully executed, and rigorously tested campus-wide E911 system that delivers precise emergency response locations to 911, plus emergency alarms to selected University staff members. This enables first responders and staff to react quickly and appropriately to emergency calls.
Project Teams
The following partners collaborated to bring the E911 project to fruition.
Executive Sponsors
Dr. Ahmed El-Haggan, CIO and VP of Information Technology and Computer Science Professor
Mr. Richard Siemer, (Former) VP of Administration and Finance
CSU Teams
ITD Telecom
Public Safety
Capital Planning, Procurement and Contracts
Corporate Partners
eTelemetry
Avaya
Presidio
PSAP
Are you concerned about your or another person's immediate safety? Dial 911 or call Campus Police at 410.951.3911.