Coppin State University Bookstore

Regular Hours:
Mon-Thu: 8:30am - 5:30pm
Fri 8:30am - 3:30pm
Campus Bookstore
Welcome to the Coppin State University Follett Higher Education bookstore! We're here to serve students, faculty, and the community with all your academic and Coppin Pride needs. Count on us to carry:
New, used, and digital textbooks for rent or purchase
Reference materials, including study guides
School supplies

Coppin clothing and gifts
Reading books and magazines
Personal care items
Greeting cards
A large variety of snacks and drinks
Did you know? You can rent over 50% of our textbooks for 1 semester!
Our Services
We also assist our students and faculty with these services:
Paying for Bookstore Purchases
The Bookstore offers several options for students to pay for purchases. You may even qualify for a voucher to use your financial aid to buy required textbooks and course materials.
Can I use my Eagle Card to pay for bookstore purchases?
Yes! You can deposit money into your Eagle Card account and use those funds to pay for books, materials, and other supplies at the bookstore.
Am I eligible for a book voucher to purchase my required books and materials?
Do you receive financial aid? If yes, you can apply for book vouchers to pay for required course materials. Here are the steps to apply:
Log in to your EagleLINKS account
Click Financial Aid
Click Book/Dining Voucher
Click New Request
Fill in your information
Submit
After you submit your request, the Office of Financial Aid takes 3-5 days to review. Once processed and approved, you're all set to get your required books and materials.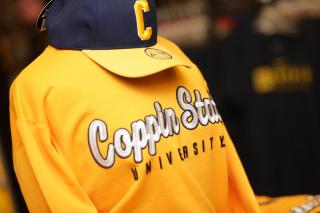 Bookstore Return Policy
Need to return something you bought in the Campus Bookstore? Review our policies on what items you can return, how to return items, and the conditions the items must be in.
What is the Book BuyBack period?
See how much cash you can get for your used books at the end of the semester during our BuyBack period.
How do I sell my books back?
Bring your books to the bookstore at the end of each semester.
What do I get for selling my books back?
We give you cash when you bring your books in—if they are in good condition to be resold.
How much money do I get for my books?
We base BuyBack prices on demand for your book(s) in a future course or semester. We may pay you more for a book, because of a professor's request for that book.