Office of the President
Presidential Inauguration

The Inauguration of
President Anthony L. Jenkins, Ph.D.
EIGHTH PRESIDENT OF COPPIN STATE UNIVERSITY
Coppin State University celebrates the investiture of Dr. Anthony L. Jenkins with a host of inauguration activities in which we commemorate our rich legacy, institute new traditions, and invest in our future. We warmly invite all to participate.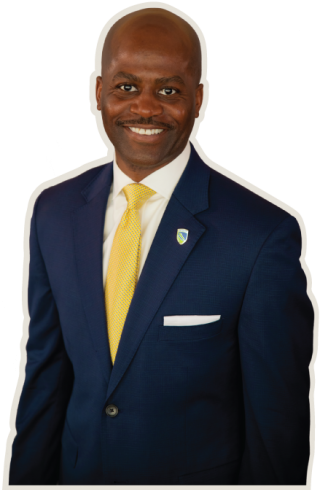 President Anthony L. Jenkins
Anthony L. Jenkins, Ph.D., became the eighth President of Coppin State University (CSU) on May 26, 2020. A respected higher education leader, he is an advocate committed to creating opportunities for all students, especially those from underrepresented communities.
Inauguration Events
Evening Reception with the Baltimore Business Community
First Lady's Wellness Challenge to Support Breast Cancer/Domestic Violence Awareness
First Lady's Tea and Wellness Social
The Investiture of President Anthony L. Jenkins
Coppin State University has implemented certain campus policies to protect the campus community against the COVID-19 virus. These policies can be found at www.coppin.edu/coronavirus. By registering for this in-person event, you are acknowledging that an inherent risk of exposure to COVID-19 exists in any public place where people are present. By attending the event, you and any guests voluntarily assume all risks related to exposure to COVID-19 and agree not to hold Coppin State University, The University System of Maryland, or any of their affiliates, students, employees, contractors, agents or volunteers liable for any illness or injury. Should local health authorities recommend it, any changes in the delivery of the event or virtual alternative will be provided to you via email.