Office of University Relations
Mon-Fri: 8:30 am - 5:30 pm
Grace Jacobs Building 1st Floor
What we do
We are a team of marketing and creative professionals, each with individual expertise that collectively works to promote the mission of the University. Our work includes capturing moments that define the student and campus experience, developing creative collateral, and sharing the Coppin story with various University stakeholders.
How we do it
While words are used to tell the written Coppin story, photography and video capture moments that are used to create a visual narrative of the university. 
University Relations employs a strategic approach to plan, design and implement marketing campaigns and create promotional materials. Whether through paid or organic reach, our goal is to employ strategies and tactics to highlight Eagle Nation while promoting growth in enrollment, fundraising, rankings, and other indicators of university success.
Promoting the Coppin brand in a healthy manner is everyone's responsibility. In addition to maintaining CSU brand guidelines, University Relations works with Athletics in a partnership with the College Licensing Company to ensure that the integrity of the Coppin brand is protected among vendors and licensees. 
Having a social media strategy to deliver digital content is essential in reaching a number of target audiences that Coppin serves. University Relations is responsible for maintaining several official Coppin social media pages and offers guidelines and assistance for CSU-related pages.
Our Priorities
The following University-wide priorities guide our work:
Become a university of choice 
Improve the holistic development and completion rates of our students
Advance our brand and reputation as a leader in higher education
Be a great university at which to work
Enhance our teaching and research excellence
In alignment with the University's priorities, our work focuses on: 
Increasing student enrollment and retention
Showcasing scholarship and achievements
Sharing Coppin experiences and success stories
Working with departments across campus to develop strategies that highlight Coppin's successes
Inspiring engagement, fostering community and building awareness for Coppin's distinctive vision and value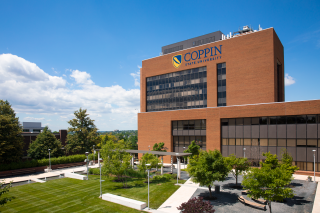 Logos, Images, Templates
University-approved logos, images, and templates are available for Coppin employees to use.
Need Help?
The Office of University Relations provides strategic services to campus partners in order to advance the University's branding, recruitment and fundraising goals.
Marketing Request Form