Sep 6 2021
President Jenkins Welcomes Students Back to Campus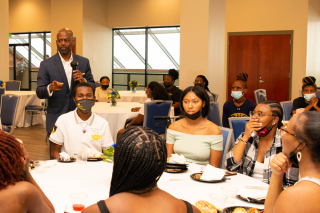 Coppin State University is elated to have students and faculty rejoin each other on campus for the 2021-2022 school year. The university transitioned to virtual learning as the COVID-19 pandemic brought unprecedented uncertainty to all. Coppin students maintained their course workload and grades throughout virtual learning, but the in-person camaraderie and benefits that were sorely missed during the past year have been reinstated. It was not a decision taken lightly by President Anthony L. Jenkins, and the Coppin State community is looking forward to returning this semester. 
"I am very excited. I feel like one of the freshmen. I haven't had the pleasure of being around all of these wonderful Eagles," Jenkins expressed as he personally welcomed students and families to the campus during move-in. President Jenkins, the eighth President of Coppin State University, began his presidency at Coppin in May of 2020, during the peak of the global pandemic. He's undoubtedly had a start like no other and has been just as eager to experience Coppin State University in-person as the incoming students are. 
President Jenkins spent the day welcoming incoming students to their new place of residence.  He spoke with parents about their child's new chapter in life, assuring parents that part of Coppin State's job is to take their child from, "a dependent to an independent state of thinking." Students and their families, who had the pleasure of staying at home the past year or so with their now young adults, were eased of the normal good-bye grief knowing that their sons and daughters were gaining another family committed to their success. 
President Jenkins also hosted a brunch on Sunday, August 22, to kickstart Welcome to Eagle Nation Week, a week dedicated to welcoming new students to Coppin State University. Students and faculty joined each other for a week of pure fun and activities designed to get them acclimated and excited about their next chapter in life. Welcome to Eagle Nation 2021 is all about meeting new people, building relationships, helping students feel more comfortable, and having fun as you start your educational journey at Coppin State University. Welcome to Eagle Nation week is also a chance to introduce new students to Coppin State's history and traditions that returning students are already familiar with. 
"[It's going to be a] great academic semester, a great year, and a great 4 years," President Jenkins says. There has been a campus-wide policy and protocol put in place to ensure the safety of the staff and students during the coming semester. Semester updates include, free COVID testing for staff and students, hand sanitation stations throughout campus, and a campus-wide mask policy. 
For full COVID policies and updates, please visit: https://www.coppin.edu/coronavirus