May 8 2023
PHOTO RELEASE: $300,000 Raised During Inaugural Coppin State University Gala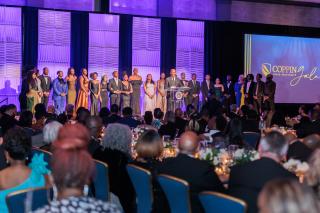 BALTIMORE – More than 550 guests were treated to an unforgettable and rewarding evening of food, entertainment, and celebration of philanthropy and student achievement during the inaugural Coppin State University Gala, held on Friday, May 5, 2023, at the Baltimore Marriott Waterfront Hotel. The Coppin State University Gala is a new signature event for the university, designed to highlight the positive impacts and achievements of Coppin and its students, foster community engagement, and strengthen relationships that help further elevate Coppin's status as a leader in urban higher education.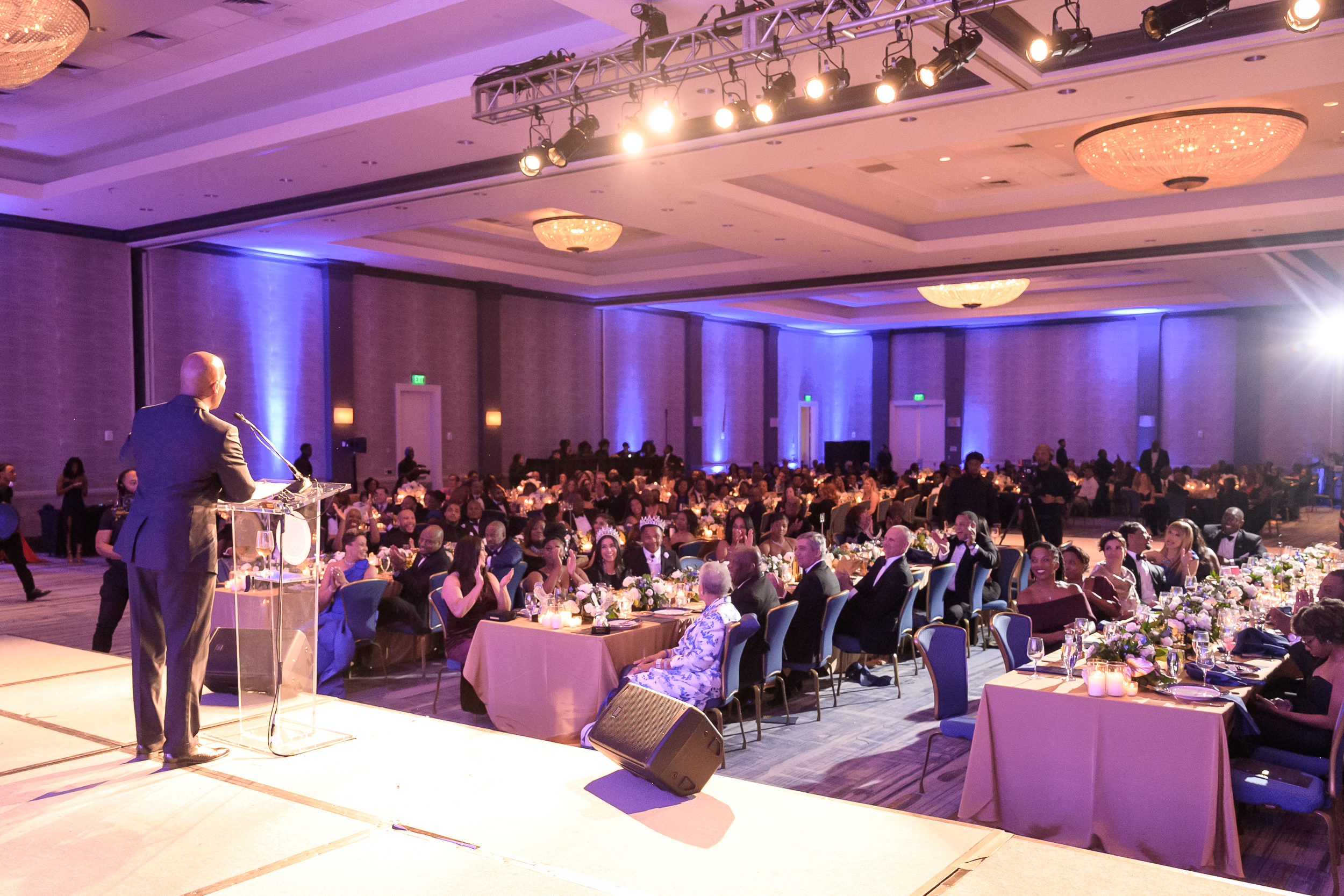 "Tonight, is a magical evening celebrating lives fulfilled, the epitome of philanthropy, and the ascent of Coppin State University, the hometown university, that continues to prove it is irreplaceable and invaluable to our city, state and region," Coppin State University President Anthony L. Jenkins told the crowd. "That is why it is so overwhelming to see all of you here to celebrate the accomplishments of Coppin State University."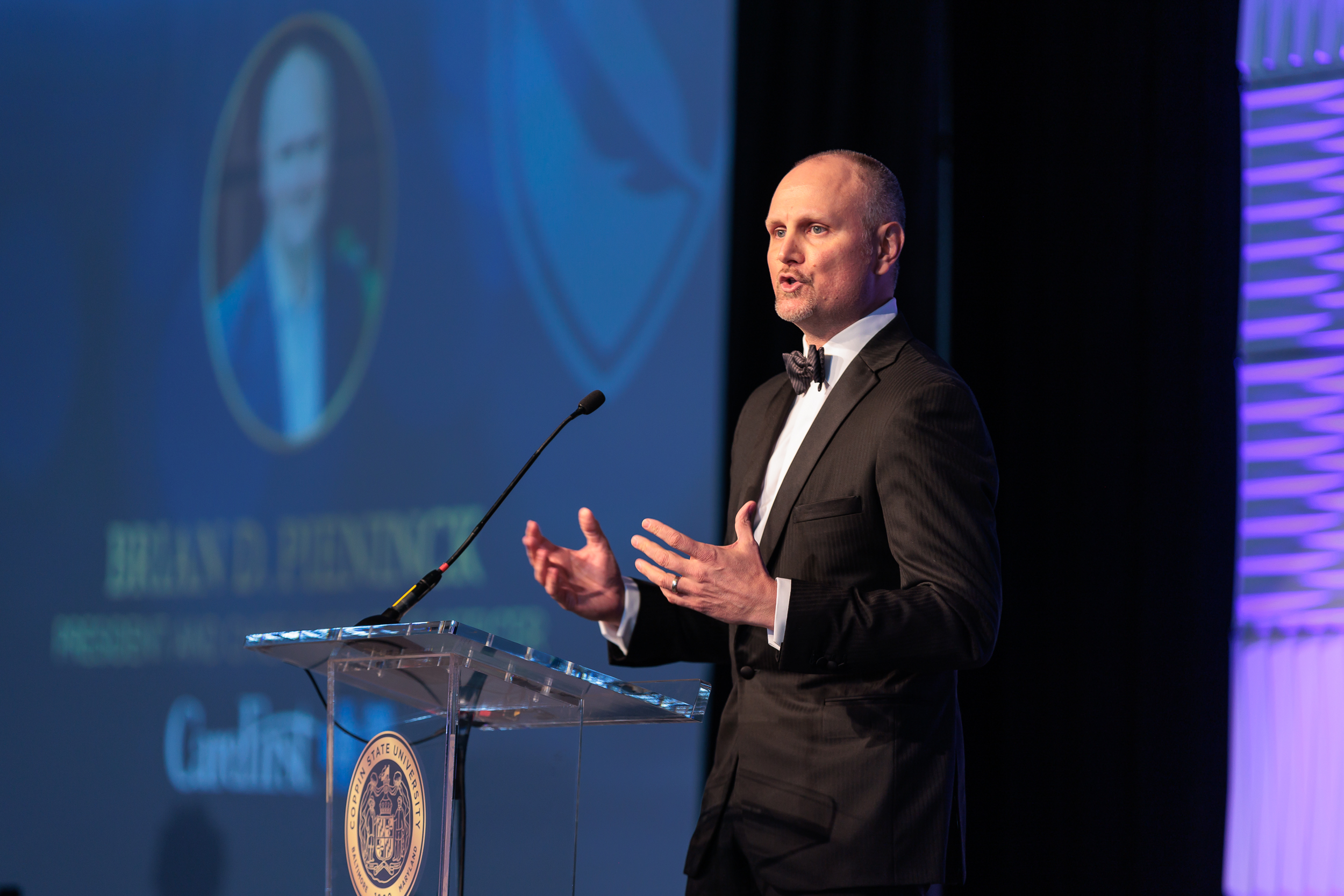 The evening raised more than $300,000 to support and enhance Coppin State University's work to nurture potential and transform lives through education, fulfill its responsibilities as an anchor institution in Baltimore, and further elevate its status as a leader in urban higher education. Proceeds from the gala will support scholars throughout their educational journey and equip them with tools and experiences needed to prepare them for the workforce, and for life, including scholarships, internship and study abroad opportunities, enhanced academic programming, and research funding. Funds raised will also support Coppin State athletics and community outreach efforts.  

"This gala celebrates the community we have built, the strong partnerships that are helping us break new ground, and the new connections that will provide meaningful opportunities for our students," said Joshua Humbert, vice president of institutional advancement, "Eagle Nation continues to raise the bar for excellence, defy expectations, and grow our global influence with help from our friends and supporters. There has never been a better time to go all in for Coppin, and we are just getting started."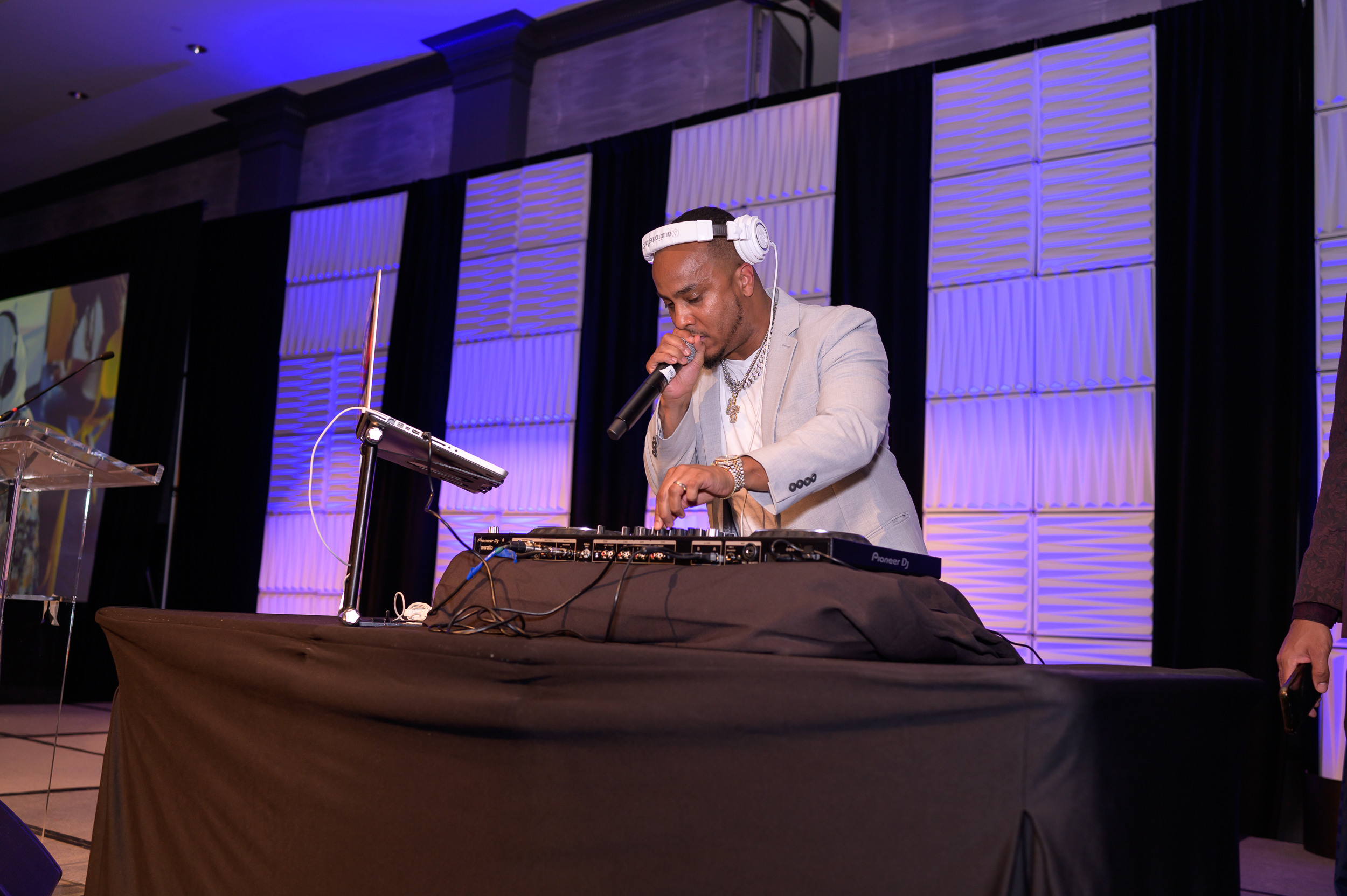 Award-winning journalist Adrianna Hopkins served as emcee, while entertainment included performances by DJ Quicksilva, saxophonist Brach Cobb, DJ Ryan Kersey, and violinist Marvill Martin throughout the night.

During the inaugural gala honored dedicated alumni and strong corporate partners who recognize the important role Coppin plays in educating multicultural, multigenerational students from various socioeconomic backgrounds, and have committed themselves to providing generous financial, programmatic, and other support to the institution. 
Florine "Peaches" Camphor ('58), a retired educator, received the Eagle Legacy Award, for her more than six decades of generosity and commitment to Coppin State University. She and her late-husband James "Winky" Camphor, sponsored six endowed scholarships at Coppin, and were lead donors in the campaign to build Fanny Jackson Coppin Plaza. Mrs. Camphor also served as past-president of the Coppin State University National Alumni Association. "The love you give to others always comes back to you, so I always say, 'do what you can, when you can, while you can, because you can," Mrs. Camphor explained.

Schwab Advisor Services and the Charles Schwab Foundation received the Blue and Gold Impact Award in recognition of their strong culture of philanthropy within their organization, and outstanding level of commitment to Coppin State University through financial support, involvement, and leadership. Schwab Advisor Services and the Charles Schwab Foundation helped launch the Minority Registered Investment Advisor Mentorship Program, which introduces Coppin State students to courses of study compatible with a financial services career, pairs them with mentors working in the industry, and further diversifies the career field.
"We've worked with quite a few universities around the country and we're proud of what we've done," said Bernard J. Clark, Managing Director, Head of Advisor Services for Charles Schwab. He emphasized his company's commitment to impacting students for generations, sharing, "we're not interested in programs just to get our name on the door, we want to make a difference. We want to make sure we are helping to grow professionals of the future, and we want to make sure we're in it for the long haul, because students are in it for the long-haul."
Dr. Karen S. Bethea ('81), and Pastor Linwood E. Bethea ('80), who met as students at Coppin State, received the Eagle of the Year Award for their continuous commitment and generosity to Coppin, as well as their great impact on the community. The Betheas lead Set the Captives Free Ministry. They are also transforming part of Security Square Mall into the Outreach, Worship, Education (O.W.E.) Center, which will include job resources, a food pantry, a day care center, and a health clinic. The Betheas credit Coppin with providing them a solid foundation.
"Coppin was so instrumental in what it did for me, and it gave me the great HBCU experience," said Reverend Bethea while accepting the Eagle of the Year Award.  "I love Coppin and would do what I do for Coppin, whether I got this award or not."
"To do what you love is a privilege; to do what you should is a responsibility; but to be recognized for it is an honor," added Dr. Bethea.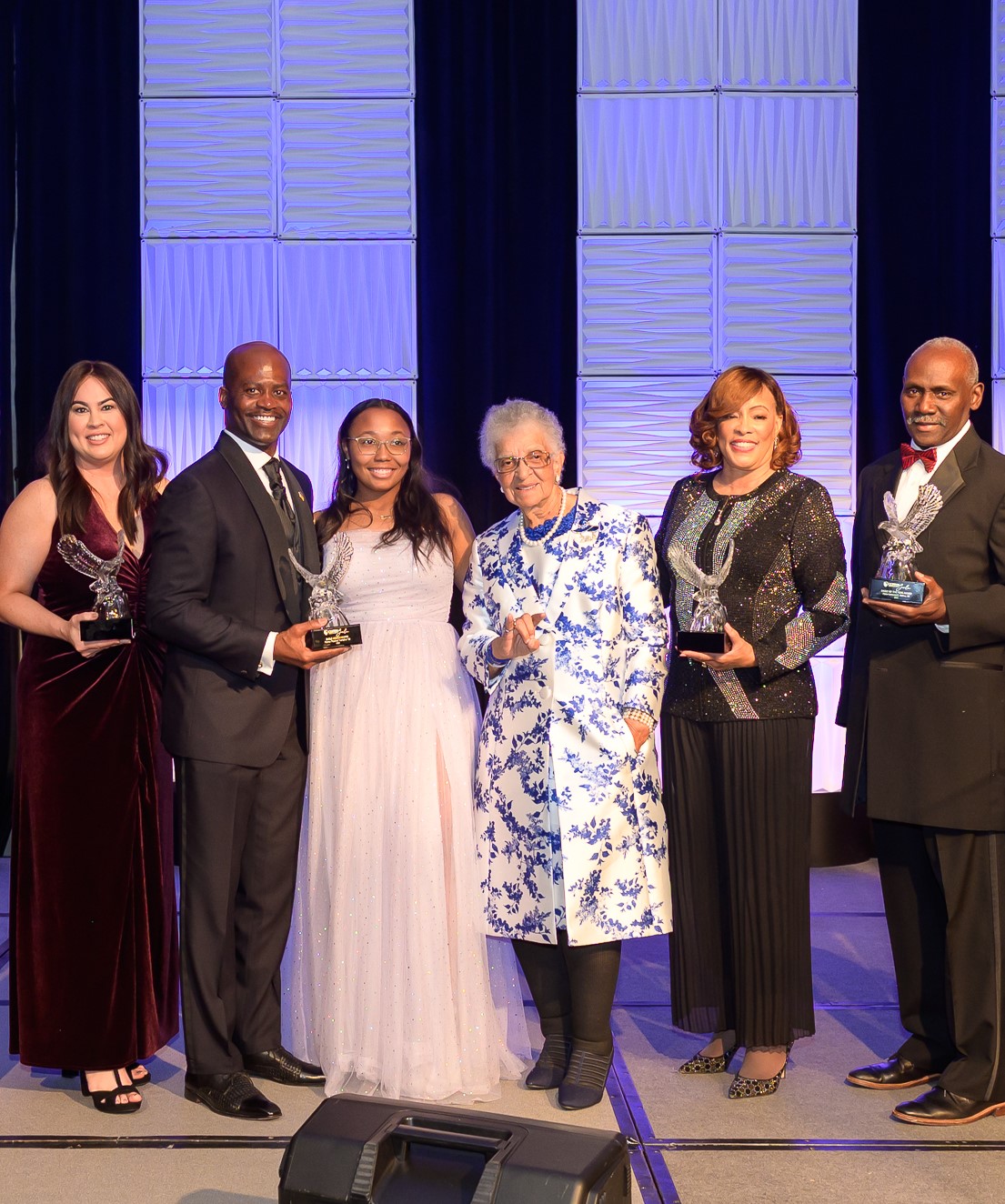 Sponsors for the Inaugural Coppin State University Gala included: Eagle Sponsor, CareFirst; Talon Sponsor, BGE; Nest Sponsors, LifeBridge Health and Thompson Hospitality; and Media Sponsor, The Afro.
Individuals and organizations interested in supporting Coppin State University can contact the Division of Institutional Advancement by calling 410.951.3800 or visiting  https://www.coppin.edu/give.