Feb 13 2023
MEDIA ADVISORY: Ribbon Cutting for Eagle Achievement Center and Major Grant Announcement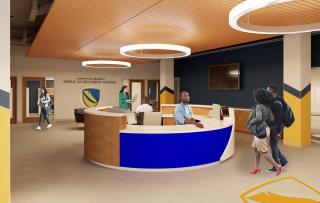 BALTIMORE – Coppin State University will host a ribbon cutting for the Eagle Achievement Center (EAC), a new academic hub designed to bring academic and professional resources under one umbrella, and improve the holistic development as well as completion rates of students at Coppin State University. During the ceremony, there will also be a major grant announcement from Truist. After the ribbon cutting, there will be a tour of the newly renovated EAC space.
What: Ribbon Cutting for Eagle Achievement Center and Major Grant Announcement from Truist
Who: 
Anthony L. Jenkins, Ph.D., President, Coppin State University
Greg Farno, Maryland Regional President, Truist 
Coppin State University Faculty, Staff, and Students
When: Thursday, February 16, 2023, 1 p.m.
Where: Parlett L. Moore Library, 4th Floor
Coppin State University
2500 W. North Avenue
Baltimore, MD 21216
Note: This event will follow the 2023 State of the University Address.
Members of the press interested in attending this event or State of the University are encouraged to contact Director of Communications, Robyne McCullough, at rmccullough@coppin.edu or 410.951.6546 for parking and other instruction.