Jan 8 2022
A Fallen Eagle - The Passing of James "Winky" Camphor '51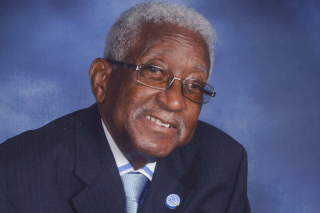 Dear University Community,
It is with deep sadness that I share the news of the death of one of Coppin State University's most beloved alumni, James "Winky" Camphor. On behalf of the Coppin State University community, we wish to convey our heartfelt condolences.
Our hearts and prayers are with Mrs. Florine "Peaches" Camphor, their family, friends, and classmates as they cope with their tremendous heartbreak and grief. I ask that you keep them in your thoughts, in the coming days, as we join them in mourning the loss of Winky and celebrating his enormous contributions to our Coppin State University family.
Winky has been a staple—a pillar—of the Coppin family, since he was admitted as a student, graduating with the Class of 1951. Anyone who spent time with Winky experienced his jovial spirit, compassion, and genuine humanity. He was Coppin's champion and ambassador, in every space he occupied, and the impact that he made, in service, giving, and love for his alma mater, will remain a treasured part of our university. 
As we respect the privacy of the family, information regarding Winky's memorial service and how the University community can pay their respects will be shared once details become available. 
Anthony L. Jenkins, Ph.D.
President
Coppin State University