Oct 26 2023
F. Michelle Richardson, Ph.D. Appointed Faculty Athletic Representative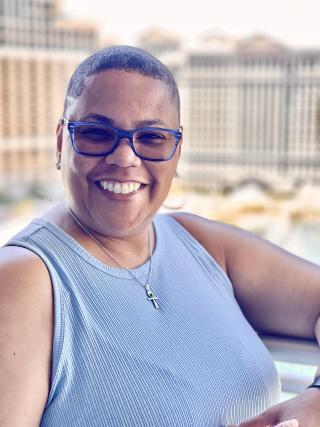 BALTIMORE – Coppin State University President Anthony L. Jenkins, Ph.D. has appointed F. Michelle Richardson, Ph.D. as Faculty Athletics Representative for Coppin State University Athletics.
As the University's Faculty Athletics Representative, Dr. Richardson will play a key role in providing a quality student-athlete experience and serve as a liaison between the institution and the athletic department.
"I appreciate Dr. Richardson for accepting this appointment and choosing to serve as the bridge between our faculty and Coppin State Athletics," said President Jenkins. "We are grateful Dr. Richardson is lending her knowledge and expertise beyond the classroom to support the holistic development of our student-athletes. Her counsel will help reinforce our university's commitment to excellence and student well-being."
Dr. Richardson joined Coppin State University in 2018 and is an associate professor and coordinator of the sport management program in the Coppin State University College of Business. Dr. Richardson is currently the President of the North American Society for Sociology of Sport (NASSS) and sits on the Board of Directors for the Commission on Sport Management Accreditation.
Dr. Richardson was previously an assistant professor of sport management at Alabama A&M, The Citadel, Washington State and Hampton University. She earned a Bachelor of Arts in journalism from Howard University, a Master of Science in Sport Management from Florida State University, and a Doctor of Philosophy in Sport Administration from the University of New Mexico.