Feb 28 2023
Coppin State University Receives $1,000,000 Grant from BGE to Support Students Studying STEM Disciplines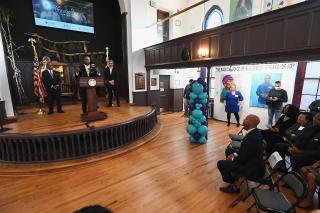 Coppin State University has received a $1,000,000 grant from BGE to support the educational goals of Coppin students studying disciplines in science, technology, engineering, and math. The grant to Coppin is part of the $3 million in grants BGE will provide to HBCUs in Central Maryland, including Bowie State, and Morgan State Universities.
Coppin State University President Anthony L. Jenkins, Ph.D.  joined Maryland Governor Wes Moore, BGE President and CEO, Carim Khouzami, Bowie State University President, Aminta H. Breaux, Ph.D., and Morgan State University President David K. Wilson, Ed.D. at the Banneker Douglas Museum in Annapolis on Friday, February 28 for the announcement of $3 million in grants to three HBCUs in Central Maryland, including Coppin.
"Coppin State University and BGE represent two anchor institutions committed to transformational impact. BGE believes, as I do, that finances should not determine who is permitted access to opportunities and upward mobility," said President Jenkins. "We appreciate BGE's unwavering commitment to our scholars, and for partnering with the University System of Maryland's urban HBCU to foster new opportunities for economic mobility, community development, and community renewal in Baltimore and throughout Maryland."
The funding is intended to provide $10,000 scholarships for more than a dozen students studying the STEM disciplines over the next four years. Currently, there are more than 200 students studying STEM disciplines at Coppin, including biology and life sciences, computer science, chemistry, data science, applied molecular biology and biochemistry, as well as polymer and materials sciences. The grant will also provide persistence grants for Coppin students in-need, as well as funding to support innovative research projects led by faculty and students, which enhance Coppin's commitment to teaching a research excellence.
"We recognize the role that HBCUs play as anchor institutions creating opportunity for economic equity and mobility, leading and supporting community development efforts, and supporting students experiencing systematic and generational marginalization," said Mr. Khouzami. "We are happy to see how many students have benefited from the funding since the program's inception and are pleased to continue to support our region's HBCUs, which are uniquely positioned to directly and dramatically impact communities of color."
Coppin State University has developed a strong partnership with BGE since the launch of the BGE Scholars program in 2021. Coppin will host the second event in BGE's Black Excellence in Energy speaker series on March 7, 2023. The event will feature a live conversation with Black leaders in the energy industry across different technologies, spaces, and companies and will center on climate resilience, sustainable solutions, and mitigating negative effects on vulnerable populations. After the panel, there will be a career fair looking to recruit talent from Coppin State University, and other area colleges and universities.