May 25 2022
Coppin State University to Host Fired Up! Glass Exhibit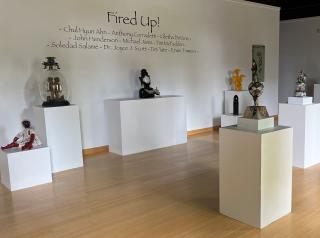 BALTIMORE – Coppin State University, in collaboration with The American Ceramic Society's Glass & Optical Materials Division (GOMD), is hosting the FIRED UP! Exhibition, through June 18, 2022. The exhibition, which is free and open to the public, will be held in the Cary Beth Cryor Gallery, located in the James Weldon Johnson Auditorium, on the University campus.
FIRED UP! was organized in celebration of the United Nations declaring 2022 the International Year of Glass (IYOG) and the 60th Anniversary of the American Studio Glass Movement. FIRED UP! celebrates the importance of glass, its role in our society, and how it can be used to build our future.  The exhibit also highlights the diversity and innovation of artists working in contemporary glass, around the mid-Atlantic region.
The FIRED UP! exhibit is one of the events organized around the 2022 Glass & Optical Materials Division (GOMD) Conference, which will be held in Baltimore, May 22-26.
"This exhibit is an opportunity for people who live and work in Baltimore to engage with art in an accessible way, which is important in the absence of events like Artscape in 2022," said Coppin State University President Anthony L. Jenkins, Ph.D. "This is also an opportunity to show visitors that there is more to Baltimore than Downtown, or neighborhoods like Fells Point, and Harbor East. Art and beauty thrive and are celebrated in every corner of this city, and we are excited our university will serve as a home for this exhibition."
The Cary Beth Cryor Gallery will be open Thursday through Saturday, from noon until 6:00 p.m., through June 18.
The artists featured in the FIRED UP! exhibit are: Chul Hyun Ahn; Anthony Corradetti; Oletha DeVane; John Henderson; Michael Janis; Tim McFadden; Soledad Salamé; Dr. Joyce J. Scott; Tim Tate; and Erwin Timmers.
The exhibit curators are: Howard L. Cohen (Art Alliance for Contemporary Glass); Amy Eva Raehse (Goya Contemporary Gallery); and Linda Day Clark (Coppin State University).
For information regarding the GOMD conference, please, contact: Andrea Ross at 614-794-5820 or aross@ceramics.org.