Jan 31 2023
Coppin State University to Host Events Celebrating Black Joy During Black History Month 2023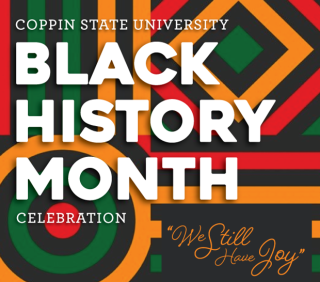 BALTIMORE – Coppin State University invites everyone to join us as we celebrate Black Joy with events throughout Black History Month, that celebrate the achievements, traditions, and history of Black Americans.
Black History Month has been observed in the United States since 1976 to recognize the accomplishments and contributions of Black people and to honor the generations of African Americans who struggled against adversity to build their individual lives, families, and communities.
This year's theme is "We Still Have Joy." Amid civil unrest, rising racial tensions, and a divisive political climate, the idea of "Black Joy" as a form of resistance has taken root. In a year that Maryland inaugurated its first Black governor, people are choosing, to celebrate and embrace rich lives where they feel free and safe to pursue happiness.

"Each year, the month of February offers an opportunity to recognize and celebrate the countless contributions of Black Americans throughout our history, as well as customs and traditions that endure and strengthen us today," said President Anthony L. Jenkins, president of Coppin State University. "As an Historically Black Institution, it is important for us to take the time, every day, to reflect on the rich legacy our ancestors left us, and to celebrate the ways our students, faculty, and others in our community are impacting the world right now. Black History Month is for everyone, and an important part of fostering a more culturally inclusive world." 
Black History Month Event Highlights: Events are free unless otherwise indicated.
·         The Marketplace
February 1 | 9 a.m. – 5 p.m. | Tawes Center Lobby
The Coppin Campus Community welcomes vendors to campus to celebrate the many facets of the African Diaspora.
·         The Philosophy and Opinions of Marcus Garvey
February 3 | 6 p.m. – 8 p.m. | Talon Center Atrium (2nd Floor)
Dr. Julius Garvey, son of civil and human rights leader Marcus Mosiah Gavey, discusses his father's philosophy and legacy, and take questions from the audience. Dr. Garvey will also sign copies of his book, The Philosophy & Opinions of Marcus Garvey.
·         40 Acres and a Mule: Celebrating the Success of African Americans
in Real Estate
February 7 | 12 p.m. – 1 p.m. | Tawes Center Ballroom (2nd Floor)
Coppin alumni will share their experiences and expertise in real estate. They will also discuss historic barriers to, and opportunities for land and home ownership.
·         Coppin Chopped: The Cookout
February 14 | 12 p.m. – 2 p.m. | Talon Dining Hall
The Cookout promotes kinship, recognizes our history, celebrates life, and is an opportunity to reconnect with family near and far.
·         Celebration: Uplifting and Honoring the Culture and History of Black Dance
February 16 | 8 p.m. | The Gordan Center for Performing Arts
Coppin Dance students join Dance Baltimore for a showcase celebrating the history, diversity, and beauty that resides within African American Culture, through the voices of community artists.
·         Spoken Word Night
February 23 | 5 p.m. – 7 p.m. | Talon Center Atrium (2nd Floor)
Students, faculty, and staff can share their spoken word, rap, music, and other art. The event will feature special guest performer Wallace Lane, an educator, author, Coppin alum, and Baltimore Banner Artist in Residence.


Visit https://www.coppin.edu/blackhistorymonth for a full list of Black History Month celebration events.
Media with questions or interested in covering Coppin State University Black History Month events are encouraged to reach out to Director of Communications, Robyne McCullough at 410.951.6546 or rmccullough@coppin.edu.
The 2023 African American History Month Activities are Sponsored by the Coppin State University Division of Academic Affairs. Support is also provided by Thompson's Hospitality, Inc., the Division of Enrollment Management and Student Affairs and the Coppin Alumni Engagement Office.