Jul 20 2022
Coppin State University Faculty and Staff Receive Catalyst Award for Optimizing the Student Experience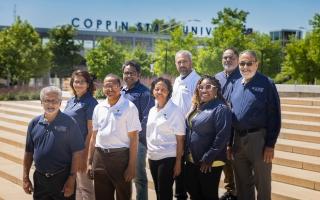 BALTIMORE – Coppin State University faculty and staff have been named winners of the Catalyst Award for Optimizing Student Experience by Anthology+Blackboard. The award for Optimizing Student Experience recognizes institutions leveraging technology to develop educational and administrative innovations that positively influence the total learner experience and improve operational efficiency.
Coppin State University's team, dubbed The Visionaries, were able to utilize Anthology's Reach, Apply, Succeed, and Occupation Insight tools to improve the student experience and provide more data to enhance students' engagement and success. Their efforts provided artificially intelligent automated personalized nudges and messaging for students to complete key tasks and improved recruitment and retention data.
"We are excited to partner with Anthology to continue to strengthen our student enrollment and retention efforts, create new opportunities for our students, and showcase Coppin State University in meaningful ways,' said Coppin State University President Anthony L. Jenkins, Ph.D. "I am proud of the transdisciplinary team who used their skills and expertise to spearhead this project, pushing us forward with intention, imagination, and an eye toward innovation."
The Coppin State University College of Business used Occupation Insights to redesign courses to match career skills and knowledge employers expect of graduates, and also provide students with a deeper understanding of potential career pathways.
"Our students told us they wanted personalized communication, at the right time during their journey at Coppin, to guide them to success," said Dr. Ahmed El-Haggan, Ph.D., Vice President for Information Technology and Chief Information Officer for Coppin State University. "We listened and searched for an intelligent system that can provide personalized high touch, high impact, and at scale automated communications to guide our students to success. We are happy to partner with Anthology to provide such a system that delivers a quality experience for our students."
The Visionaries from Coppin State University are:
Ahmed El-Haggan, Ph.D,

Vice-President for Information Technology and Chief Information Officer;

Sadie R. Gregory, Ph.D.,

Dean of the Coppin State University College of Business;

Dionne Curbeam, Ph.D.,

Deputy CIO for Innovation, Development, Education, and Assessment; 

Prasad Doddanna,

Deputy CIO for Enterprise Information Systems; 

Mohammed Ahmed, Director, Campus Network Infrastructure Team;

Taha Mohammed, Assistant Director, Campus Network Infrastructure Team;

Ravi Settipalle, Manager, Enterprise Applications Support; 

Ashish Nunna,

Business Intelligence Administrator and Data Analytics Developer; and

Melissa Rigby, Lead Digital Apps Developer.
Founded in 2005, the annual Catalyst Awards recognize and honor innovation and excellence in the Anthology global community of practice, where millions of educators and learners work every day to redefine what is possible when leveraging technology. Winners are selected by a cross-functional team of Anthology experts and represent the very best in their field. The Catalyst Awards were expanded when Anthology and Blackboard combined in 2021.
"We're pleased to honor this year's Catalyst Award winners for their commitment to improving the educational experience for all learners through EdTech and sharing these insights with the broader community," said Jim Milton, Chairman and Chief Executive Officer at Anthology. "We're proud to partner with institutions who are innovating to advance student success."
For more information on the Catalyst Awards, please visit: https://www.anthology.com/catalyst-awards.