May 4 2023
Coppin State University Center for Strategic Entrepreneurship Launches Youth Entrepreneurship Research Project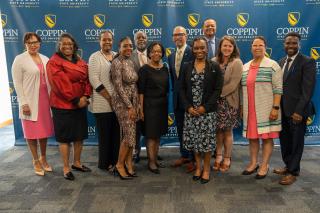 BALTIMORE – Coppin State University is launching a new research project focused on fostering and improving conditions for youth entrepreneurship in Baltimore. The Excellence in Entrepreneurial Learning (EXCEL) Research Project, announced during the 2023 Economic Inclusion Conference at Coppin, will examine current entrepreneurship training programs for youth and young adults between the ages of 16 and 29. 
Coppin State University is the home of the Center for Strategic Entrepreneurship (CSE), which is housed in the Coppin State University College of Business and seeks to provide resources and dynamic solutions that propel future developments in business that drive economic growth and positive entrepreneurial outcomes in Baltimore, across Maryland, and around the world. 
The CSE will lead the transdisciplinary team, composed of students and faculty from Coppin State University's Colleges of Arts, Sciences, and Education, Business, Health Professions, as well as Behavioral and Social Sciences. Faculty will provide insights from their various disciplines, and students will participate in data collection, analysis, and synthesizing the study's findings.
The Coppin State University team will collaborate with the Annie E. Casey Foundation, as well as Brazen Consulting & Accounting, which is owned by Coppin alumna, Kirsten Allen ('12), to identify opportunities for improved training and resource support for youth entrepreneurship, provide data necessary to create meaningful investments in youth entrepreneurship, and promote economic mobility for young people in Baltimore City. 
"The EXCEL Research Project will provide a greater awareness of learning programs, their outcomes, and what could work to help young people wanting to pursue the path of entrepreneurship," said Ronald C. Williams, Ph.D., Director of the Center for Strategic Entrepreneurship at Coppin State University. "Learning is an important skill for today's economy, and continuously improving how we facilitate learning is the key to unlocking economic opportunity and upward mobility moving forward."
A report published in 2017 by the Annie E. Casey Foundation found individuals ages 16 to 29 in Baltimore City want to pursue entrepreneurship and identified a need to make resources available to start and maintain a business. The results of the EXCEL Research Project will help inform future initiatives to foster opportunities for youth entrepreneurship and provide young people with resources to start a business.
"We've found that many young people in Baltimore want control over their work environments, job flexibility and to be their own boss. They have ideas, developing businesses and a desire for entrepreneurship that will positively impact their communities, but need the education, mentorship, and access to capital to take their ideas and impact to sustainable levels," said Sara Cooper, senior associate for economic opportunity at the Baltimore Civic Site at the Annie E. Casey Foundation. "The EXCEL research project will provide the data we need to identify more opportunities to help young people thrive in their entrepreneurial journeys."
Researchers with the EXCEL project will work in phases to collect survey responses throughout 2023, with the final report set for release in July 2024.