Apr 28 2023
Coppin State University Center for Strategic Entrepreneurship Hosts 2023 Economic Inclusion Conference at Coppin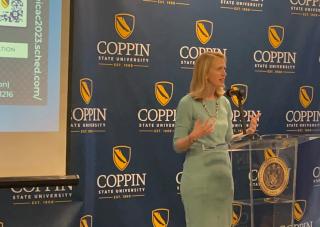 BALTIMORE – Coppin State University's Center for Strategic Entrepreneurship (CSE) hosted the 2023 Economic Inclusion Conference at Coppin, on Thursday, April 27, 2023. The conference, with the theme of Building Innovative Networks of Collaboration,  showcased collaborative programs and relationships developed by the CSE to encourage economic development and foster economic growth and opportunity through entrepreneurship in greater Baltimore and across Maryland.
"If Maryland truly is going to reach its fullest potential, it must have a strong Baltimore City. Baltimore City is inextricably linked with Coppin State University," said Coppin State University President Anthony L. Jenkins.  "Today is not just about coming together and talking about great ideas. It is also about taking action in Baltimore and bring about meaningful change."
The Economic Inclusion Conference at Coppin emphasized the importance and value in entrepreneurship by illustrating ways entrepreneurs create positive economic impact for the region and improve outcomes in Baltimore, across Maryland, and beyond, with presentations from several Coppin State University partners, including the Annie E. Casey Foundation, Open Works Baltimore, PNC, TEDCO, and the West North Avenue Development Authority.
Maryland Comptroller Brooke Lierman served as keynote speaker for the conference, highlighting the ways entrepreneurs can partner with the state and access resources to launch and sustain their businesses, and closing the racial wealth gap. Research notes that in the U.S., on average, Black and Hispanic households earn about half as much as the average White household and own a fraction (15 to 20 percent) of net wealth.
"As Maryland's Comptroller, I am committed to pursuing investment and procurement policies that will close the wealth gap and help build more equitable, resilient, and prosperous communities across our state," said Comptroller Lierman. "Coppin State University's Economic Inclusion Conference will provide a unique chance to discuss how Marylanders can work together to achieve these very same goals."  
The Economic Inclusion Conference at Coppin also featured presentations and activities for Baltimore-area high school students visiting the campus, as well as Coppin State University students, that focused on a range of topics including financial literacy, and career exploration.
Organizers say the fourth Economic Inclusion Conference at Coppin, a signature event for the CSE and College of Business, was a successful illustration of what is possible with public-private partnerships, coordinated efforts, and a commitment to fostering inclusive economic opportunities for all communities.
"The Center for Strategic Entrepreneurship was established based on the Quadruple Helix Model of innovation," explained Dr. Ronald C. Williams, Ph.D., founding director of the Center for Strategic Entrepreneurship. "We intentionally engage industry, government, academia, and the community in our efforts to facilitate entrepreneurship and positive economic mobility through teaching, research, and service. The Economic Inclusion Conference at Coppin reflects the value of this kind of inclusive ecosystem building and collaboration."
The Economic Inclusion Conference at Coppin was sponsored by the Coppin State University College of Business, Greater Baltimore Black Chamber of Commerce, PNC, and TEDCO.