Jun 23 2022
Coppin State University Announces Inaugural Ozzie Newsome Scholars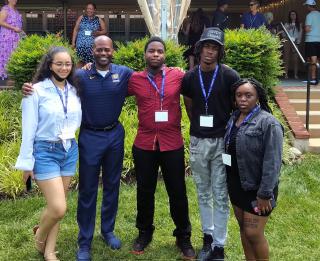 Coppin State University recently announced the cohort of students selected for the Ozzie Newsome Scholars Program inaugural class. The program, funded through the Stephen and Renee Bisciotti Foundation, provides $10,000 annual scholarships to Baltimore City Public School graduates attending Historically Black Colleges and Universities (HBCUs) in Maryland. The Coppin State University students selected for the Ozzie Newsome Scholars Program are:
Adeseyi Adekanbi

Tamya Bellamy

Trevon Dorsey

Felicite Ogu

Melaina Phillips
"The Ravens Organization has influenced the lives of many Baltimoreans, not only through football, but through philanthropy," said President Anthony L. Jenkins, Ph.D. "I admire their willingness to provide financial support that can bring students another step closer to earning their degree and improving circumstances for themselves, their families, and communities. Coppin State University is proud of our connection to the Stephen and Renee Bisciotti Foundation, and we are proud of our Coppin scholars who are now part of Ozzie Newsome's incredible legacy."
Overall, the Stephen and Renee Bisciotti Foundation has committed $4 million in scholarships through the course of the program. The four HBCUs in Maryland, including Coppin State University, will select an additional five scholars for the program each year, for a total of 80 scholars over the next four years. The Bisciotti Foundation will also support Ozzie Newsome Scholars' participation in the College Completion Program through the CollegeBound Foundation. Through CollegeBound, the scholars will be guided by a college completion advisor, work with a peer mentor (an upperclassman on campus) and join other Baltimore City Public Schools graduates in a "transition to college workshop." The scholars will also participate in three annual skills-building seminars.