Mar 28 2022
Coppin State University Announces 2022 Commencement Speaker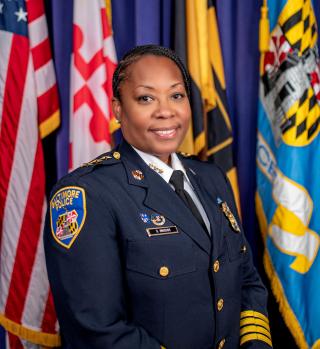 Coppin State University will welcome Baltimore Police Department Deputy Commissioner Sheree Briscoe as its Commencement Speaker on May 20, 2022. Deputy Commissioner Briscoe is a 27-year veteran of the Baltimore Police Department and an alumna of Coppin State University, where she earned a bachelor's degree in Criminal Justice, in 2020. She is the first African American woman to hold the rank of Deputy Commissioner in the history of the Baltimore Police Department. 
"Deputy Commissioner Briscoe is a trailblazer and an inspiration to everyone who comes into her path. She is a champion for Baltimore and a leader who has invested herself and her career into building stronger communities," said Coppin State University President Anthony L. Jenkins. "We are proud of all that she has been able to accomplish throughout her career, and our graduates can gain so much from hearing her story and her wisdom. We are honored Deputy Commissioner Briscoe agreed to be our Commencement Speaker, to share more of herself in order to motivate and empower our newest Coppin State University alumni."  
Deputy Commissioner Briscoe currently oversees the Operations Bureau within the Baltimore Police Department, which includes the Patrol Division, Criminal Investigation Division, and Data Driven Strategies Division.   
"As a first-generation college graduate, I am honored and humbled to serve as Coppin State University's Commencement Speaker. The University's rich legacy and history has been an inspiration to me and other students by fostering an empowering environment that brings together people from so many different backgrounds and experiences," said Deputy Commissioner Briscoe. "It is a privilege to continue the legacy of the many great alumni, from Fanny Jackson Coppin to our city's first African American Police Commissioner, Bishop Lee Robinson."  
Deputy Commissioner Briscoe began her career with the Baltimore Police Department as a patrol officer in the Western District. She was appointed to serve as the commander of the Western District three weeks following the Baltimore Riots in 2015, and was promoted to the rank of Deputy Commissioner in 2021. 
Commencement 2022 will be held May 20, 2022, at 10 a.m., at the Physical Education Complex Soccer Field, at Coppin State University. More information can be found at https://www.coppin.edu/student-life/commencement.